In this article, we have discussed the top 10 hotels in Austria. Austria is a small country in central Europe famous for its beautiful scenery on the one hand – lots of green views and snow-capped mountains which are a heaven for skiers – and its rich culture on the other hand: castles, churches, museums and lots of music. To witness all these amazing sights you need to stay for 2-3 days at least. This article helps you select best hotels out of other hotels in Austria to stay in.
Our selection of the best hotels in Austria will take you through a whole pack of stunning scenery, delicious food, not to mention a healthy and most comfortable stay or dine-out in Austria.
THESE ARE THE TOP 10 HOTELS IN AUSTRIA!
Hotel Kaiserhof Wien
This is one of the traditional hotels. The hotel Kaiserhof Wien is situated on an very quiet street of Vienna's, which is about a 7-minute from the State Opera. The property is close to various spots such as the Ringstraße street, and the Karlsplatz Underground Station. The hotel also offer free internet access.
All rooms at the property comes along with an air-con, a flat-screen TV, a minibar, a tea and coffee maker, and a washroom with a hairdryer and a make-up mirror. Allergy-free rooms are available upon request. There is a spa with sauna, steam bathtub and fitness center is available within the property. In the morning a native breakfast buffet is served. Drinks and snacks are also served at the bar. This is one of the best hotels in Austria.
DAS EDELWEISS Salzburg Mountain Resort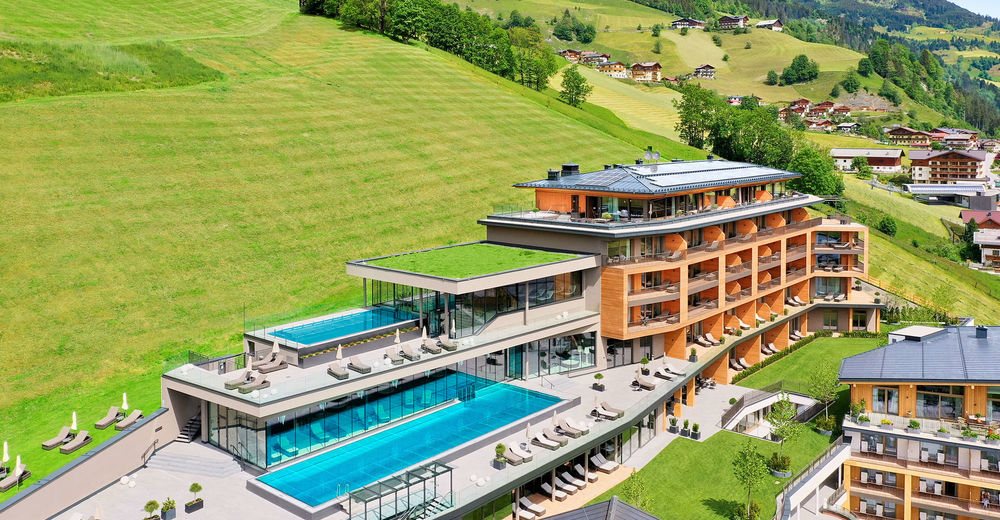 This hotel is awarded with the Austria Quality Seal for its best quality of service within the property. This hotel ensures each guests and their family an unforgettable experience. The hotel has very friendly employees and a pleasing atmosphere, combined with various leisure facilities.
The property also feature an indoor and outdoor pools. The hotel also offers free internet access to guests in the public area and a flat-screen TV with a minibar, coffee maker and hairdryer in all rooms. Other facilities include room service and a concierge. All rooms feature blackout curtains, Air conditioning, a desk, housekeeping, a Coffee and tea maker with Cable/satellite TV, and a Walk -in shower. Children can enjoy on the playground or play games at kid area whereas grown ups can enjoy their tea on the terrace. The property also features a massage and a bar.
Le Meridien Vienna
Le Meridien Vienna is one of the top 10 hotels in Austria and is located at the Ringstraße in the heart of vienna. The property feature free access to its pool and 24/7 open swimming pool, free WiFi, 24-hour fitness center and an pool.
All the spacious rooms at the Le Meridien Vienna have an large flat-screen TV. Most of the bathrooms feature a free-standing Victorian-style bathtub and separate massage shower. Spa facilities at the hotel embrace a pool, a hot tub, a steam bathtub, a sauna, and a fitness center with a personal trainer. This hotel provide dining and drinking choices on-site, restaurant, dinner place, and outdoor restaurant.
Boutique Hotel am Stephansplatz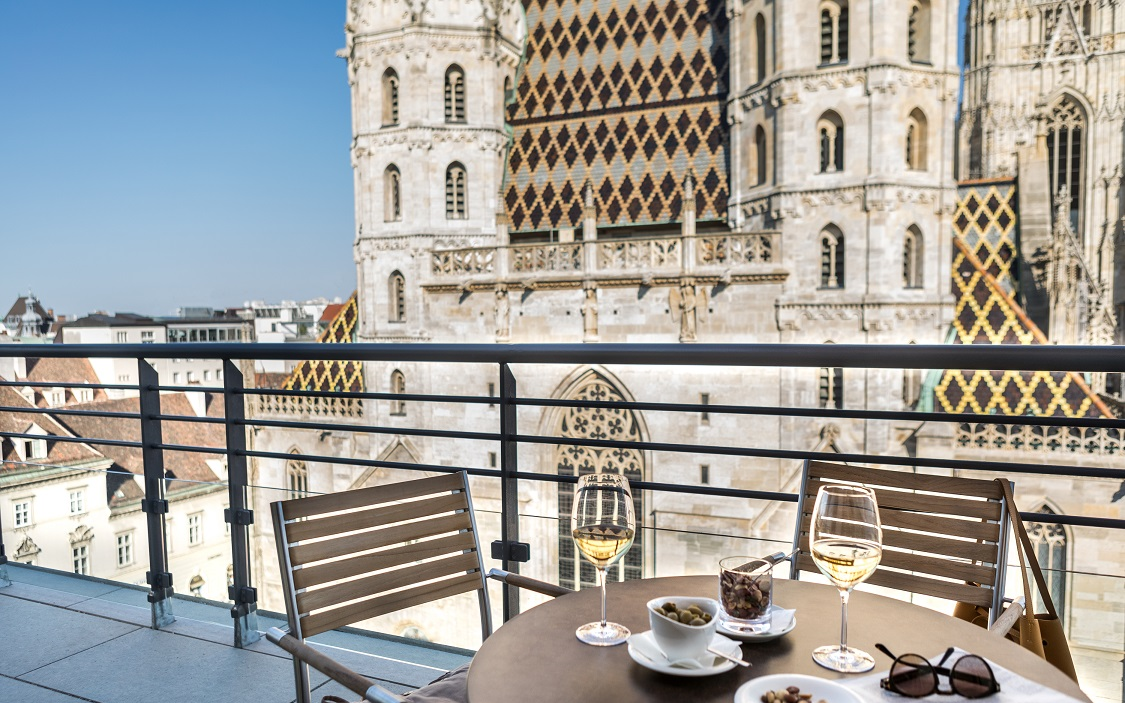 The boutique hotel am Stephansplatz is located at the heart of Vienna, at the directly opposite Saint Stephen's Cathedral, the city's beloved landmark. The hotel offer free internet connection throughout the property. This is one of the best hotels in Austria. The hotel's interior is very eye-catching, it is decorated by precious wood, warm colours, and high-quality art and style.
At the hotel all rooms are very trendy and modern and comes with an air-con ,flat-screen TV, parquet floors, a minibar, a tea/coffee maker, and a washroom. The property is in close proximity with public parking garage which is just some ten minutes from the hotel. All rooms features blackout curtains, Air conditioning, a desk, housekeeping, a Coffee and tea maker with Cable /satellite TV and a Walk-in shower. The hotel provides accommodation with a restaurant, a gym, and a spa.
Andaz Vienna Am Belvedere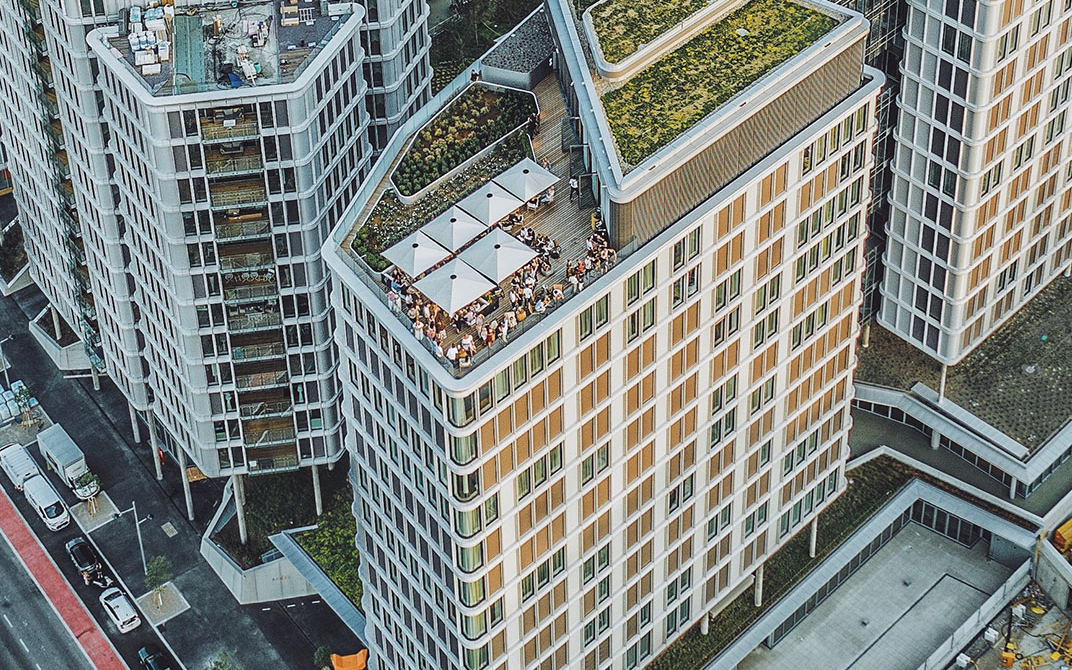 Andaz Vienna Am Belvedere is one of the top 10 hotels in Austria and offer its guests with large air-conditioned rooms well-equipped with a table, a kettle, a safety-deposit, a flat-screen TV and a personal washroom with a shower. A continental breakfast is available daily at the accommodation.
All rooms in the hotel offer air-conditioning, Iron and ironing board, Down and feather pillows, Personal safe, Tea and coffee making facilities, Flat-screen TV, and a free internet connection.
For guests traveling with their car valet parking is also available. The hotel also offers a swimming pool for guests to relax and enjoy their stay. Guests can also enjoy and relax at the rooftop terrace. Each unit have a room with a dishwasher and a refrigerator.
Falkensteiner Club Funimation Katschberg
Falkensteiner Club Funimation Katschberg is one of the best hotels in Austria that guarantees you pure fun and a soothing family vacation. It is the largest family club within the Alps and lives and offer a hiking area, between the Hohe Tauern. The property also offer free internet access within the hotel.
All the hotel all rooms are well-equipped with all necessary amenities and come with an air-con, an electrical kettle, tea, and a flat-screen TV, bathrobes, slippers, a hairdryer and free toiletries. Guests have access to a 24-hour front desk, shop, and other facilities at the property all the time. This property also provide dining option on-site, at the restaurant.
Adina Apartment Hotel Vienna Belvedere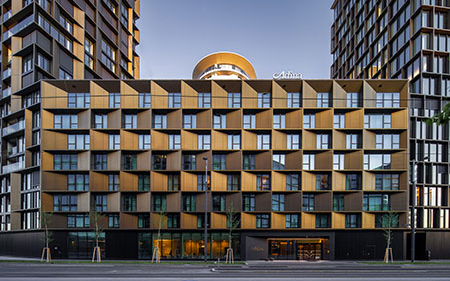 Adina Apartment Hotel Vienna Belvedere is one of the best hotels present in Austria and is within 600 meters of Museum of Military History.
The hotel's rooms feature spacious studio, one- and two-bedroom suites with separate living and sleeping areas and free Wi-Fi access to guests are also offered by the hotel. Grocery delivery service are provided in all rooms. The hotel has a 24-hour open fitness center with a gym and a swimming pool. The property is in close proximity to various famous tourist spots such as around 2.1 km from House of Music, Vienna State Opera and 2.3 km from Albertina Museum. The hotel is just some 15 km from the international airport too.
Austria Classic Hotel Wien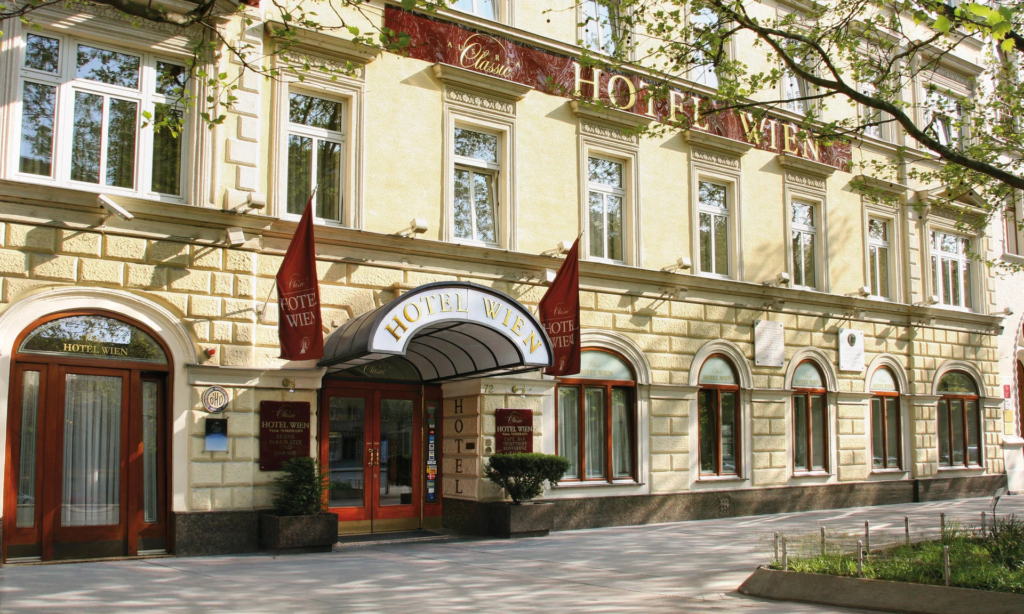 Austria Classic Hotel Wien is simply two hundred meters from the underground station with the direct connections to the city center. The hotel is entirely air conditoned and offers free internet access.
At the hotel, each room includes air conditioning, a seating area, a flat-screen TV, a safety deposit box, and a private bathroom with a shower, free toiletries, a hairdryer, and a bathtub. Other facilities include a 24-hour front desk, a business center, and shops. Wi-Fi and parking facilities are available nearby. Other accommodations include the sauna, the fitness center, and also the terminal is available free of charge. The rich breakfast buffet is available from 06:30 to 10:30. The property also features a roof terrace. There are also few direct trains to the airport.
Hohe Salve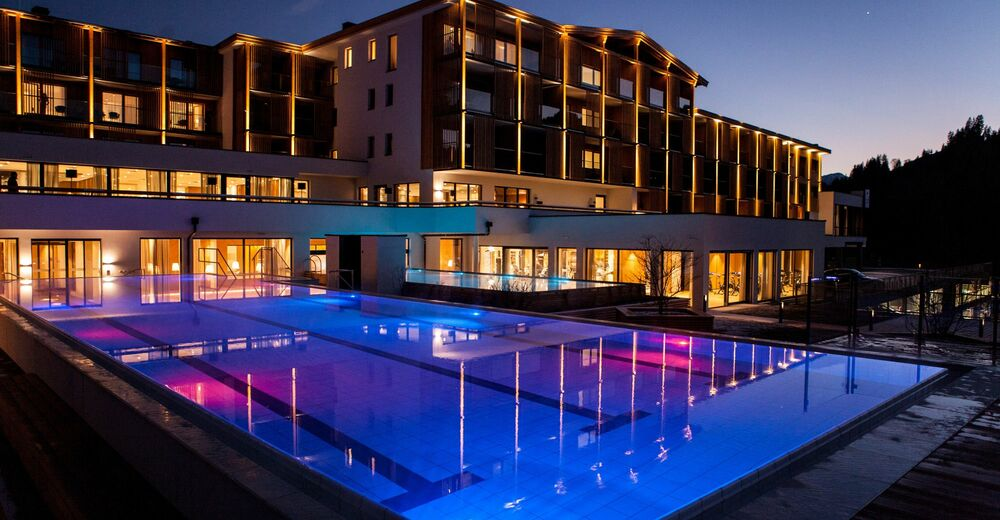 Hohe Salve is located directly next to the valley station of the Hohe Salve within the Kitzbühel Alps. It takes guests to SkiWelt Wilder Kaiser-Brixental that offers ninety cable cars and ski lifts and 284km ski slopes. The property offer free internet connection.
Each hotel rooms feature a balcony, a flat-screen TV, and a separate toilet. Some of the rooms even offer mountain views. The Move & Relax area includes a fitness area, a spa, a sanarium, a steam tub and a couple of infra-red cabins. Free private outdoor parking is accessible on the site, whereas garage parking can be requested. Every unit have a cable TV, a kettle, restroom is equipped with a shower. For guest comfort, slippers and free toiletries are also made available by the hotels. In addition, the hotel offer a 24-hour front desk.
A-Rosa Kitzbühel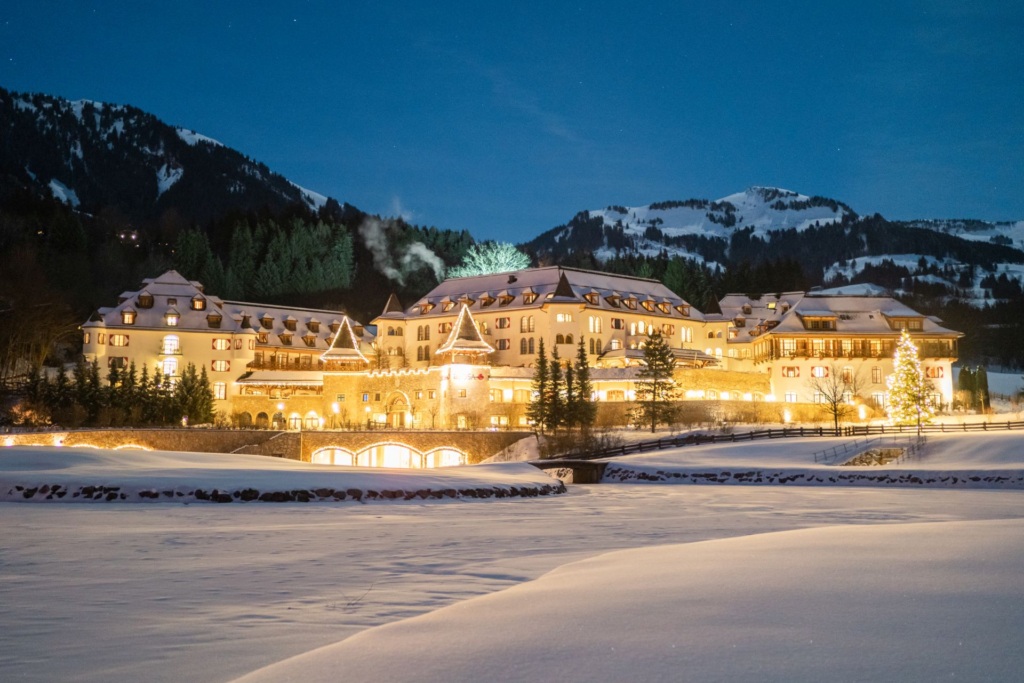 A-Rosa Kitzbühel is one of the best hotels in Austria and is surrounded by the scenic panorama of the Tyrolean Alps. The rooms of the A-ROSA elegantly mix modern style with a standard ones. All rooms comes well-equipped with a flat-screen TVs and free Wi-Fi.
All rooms of these hotels have a satellite TV and balcony with mountain or ocean views. Each room comes with an radio. a personal rest room with marble tile, huge bathing tub and separate shower is additionally provided. The hotels also feature a full-service spa that options massage medical aid, facials and body treatments. Guests can enjoy themselves at the pool or near the pool. The lobby bar at the property features a spectacular view. This is in close proximity with various famous tourists spots. The spa area can only be used from 15:00 on the day of arrival and till 11:00 on the day of departure.
CONCLUSION:
To answer all your curiosity about the most visited hotels of all time we have made this list of the top 10 hotels in Austria. All these hotels provide excellent Hospitality. These hotels provide fantastic service for a lifetime had a great evening, the dining and bar facilities at these hotels are amongst the best that the country offers, and bars are the perfect option for the elite party. These hotels will surely make you enjoy your stay as you experience all the things Austria has to offer. Come and enjoy your stay!
Here is the link for the top 10 resorts in Austria in 2023!
FAQs:
What Austria is famous for?
Austria is famous for its castles, palaces and buildings, among other architectural works. Some of Austria's most famous castles include Festung Hohensalzburg, Burg Hohenwerfen, Castle Liechtenstein, and the Schloß Artstetten.
Is breakfast included in the price for these hotels?
Once you have retrieved the availability for a specific hotels for the requested dates, by clicking on the room name, you will find information about breakfast, taxes and room facilities. Many hotels do provide this facility!
Can you get Amazon delivered to a hotels?
Yes, just give Amazon the hotel address and notify the front desk.
Are food deliveries allowed at these hotels?
Yes, you can definitely bring food or have a delivery there.
Are visitors allowed in hotels?
Any visitor who stays over night would have to be registered with hotels at the Front Desk and the room rate may change depending upon occupancy.
Which part of Austria is most beautiful?
Salzburg. Salzburg is most known for providing the setting for "The Sound of Music."
Do hotels need ID of both guests?
For room in hotels you are required to register their guests with the local authorities, they will ask for the ID of all guests.
Is Austria friendly to foreigners?
Austrians are quite friendly and foreigners are typically received with a warm welcome. Despite this, Austrians tend to lead more private personal lives.
What do you need to check into hotels in Austria?
You should always carry government-approved checking identification proof while checking in to the hotels .
Can you speak English in Austria?
Yes, In fact, Austria places seventh out of 63 countries on Education First's English Proficiency Index, with Austrians in every age group out-performing Europe-wide averages for their levels of spoken English.