Here is the list of top 10 safest hotels in Asia, to make your stay more fun and memorable while feeling safe. Overall, Asia has a vibrant history and diverse ethnic quarters to discover, along with elegant and beautiful attractions and lovely public spaces that make exploring this slightly futuristic city worthwhile. To enjoy all the amazing things Asia has to offer you must feel at ease and safe. So, to provide you with a safest Asia tour we have created a list of the top 10 hotels in Asia.
Our selection of the Safest hotels in Asia will take you through a whole pack of stunning scenery, delicious food, not to mention a healthy and most comfortable stay in Asia.
THESE ARE THE TOP 10 SAFEST HOTELS IN ASIA!
LOTTE HOTEL SEOUL Executive Tower – Seoul, South Korea
Lotte Hotel Seoul, situated in the center of the Korean capital, offers an unequaled level of hospitality service along with state-of-the-art facilities. The property maximizes guest fulfillment based on stylish, state-of-the-art facilities and caring services that can't be compared to other hotels. Itl is in a location surrounded by government and public offices, businesses, historic landmarks, and major shopping districts.
The accomodation has a total of 1,120 guestrooms, 14 banquet halls and conference rooms. The property also features 10 stylish restaurants and a bar craved by both local and foreign guests. Four individual design concepts have been created, from modern to traditional looks. The property has gained growing credibility among foreign guests. It has been recognized for its excellence by travel and hospitality-related organizations around the world.
It has been selected as the official hotel for numerous international events for the last three decades for its safety and facilities. This is one of the safest hotels in Asia.
Six Senses Laamu – Olhuveli Island, Maldives
Six Senses Laamu, Maldives blends in with its surroundings and complements the accommodation. All 97 rooms offer complete privacy in comfortably luxurious settings. During the day, guests can enjoy tropical adventures, from surfing and kiteboarding to swimming, diving, skiing, and snorkeling. And at night, you can sit back at the Chill Bar that's built over the water.
Each room includes air conditioning, a seating area, a flat-screen TV with cable channels, a safety deposit box, and a private bathroom with a shower, free toiletries, a hairdryer, and a bathtub. Other facilities include a 24-hour front desk, a business center, and shops. Wi-Fi and Paid parking facilities are available nearby. The property also offers a multi-cuisine coffee shop and a bar. This is one of the safest hotel in the Asia.
Jaya House River Park – Siem Reap, Cambodia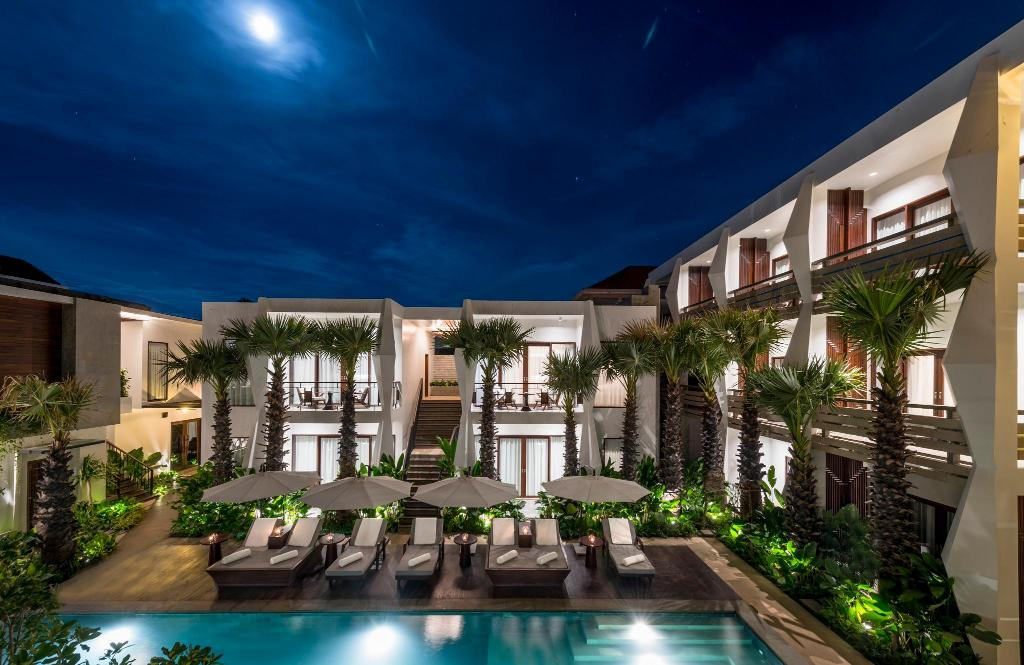 Jaya House River Park provides the car parking and the Wi-Fi are always free, so you can stay in touch with the others virtually. The hotel includes luxury bedding, rejuvenating rain showers, a flat screen TV, multi power points and Bring Your Own Device connectivity. The property also offers a 24-hour front desk, room service, and a concierge.
In addition, guests can enjoy a rooftop pool and free breakfast. For guests arriving with a vehicle, paid parking is available. The hotel is conveniently situated in the Siem Reap Central Area part of Siem Reap.
Padma Resort Ubud – Bali, Indonesia
In addition to the quality of the Republic of Indonesia Care, all guests get free Wi fi altogether rooms and free parking. handily placed within the Ubud a part of Bali, this property puts you close to attractions and fascinating eating choices. Make sure to pay a visit to the noted Sacred Monkey Forest Sanctuary. Rated with five stars, this high-quality property provides guests with access to massage, building, and fitness center on the scene.
All guest rooms and suites feature engaging deco. The property offers free web access to guests within the public space and a flat-screen TV with a counter, kitchen appliance, and hairdryer altogether rooms. alternative facilities embrace space service and a caretaker. The property conjointly provides a 24-hour business center. Guests can host any sort of gathering at the hotel. on-the-scene restaurant, that offers Golden State, Continental, and Chinese culinary art in a very trendy, brilliantly lit setting is additionally offered.
Lotte Hotel Hanoi – Hanoi, Vietnam
LOTTE HOTEL HANOI is located between Hanoi's Old quarter and the New Business District. The property connects the rich cultural history of the past and the promising future of Hanoi. The accommodation represents a new standard of international 5-star hotels. It features a total of 235 standard rooms and 83 suites, each room have an access to panaromic view of Hanoi.
The property offers a selection of tasteful venues to suit any occasions such as international conferences, business seminars, parties, weddings and family gatherings. The bars combine the best of the local culture and cuisine with dishes from around the world. The accommodation also offers advantage of the spectacular fitness center, spacious yoga room, indoor golf range and sauna. The Top of Hanoi has recently been renovated with countless Instagram-worthy corners boasting the gorgeous panoramic Hanoi city night views and dazzling live music performances. Not only does the property provides a charming and relaxing atmosphere with luxurious facilities but also premium services by our fascinated employees with a safe environment.
COMO Cocoa Island – Cocoa Island, Maldives
COMO Cocoa Island is home to 33-overwater villas inspired by native Dhoni boats. The accommodations are recasted from top to bottom with clean-lined interiors. The property also features an open-sided Pilates and yoga studio, that sits in an elevated position on top of the lagune providing 360-degree views. A third of the non-public Island is occupied by the COMO Shambhala Retreat, the island's well-being centre, which offers Asian-based well-being therapies, organic process advice and exercise within the resort's progressive new gym.
The highlight of the hotel is the hydropathy pool with hard-hitting jets used for water-based treatments. COMO Cocoa Island is additionally providing activities to enhance holistic well-being providing, like wreck diving, ultraviolet night skin diving, and shark expeditions. In addition o all these facilities, the safety provided by the hotel is well-known among tourists and locals.
Viceroy Bali – Bali, Indonesia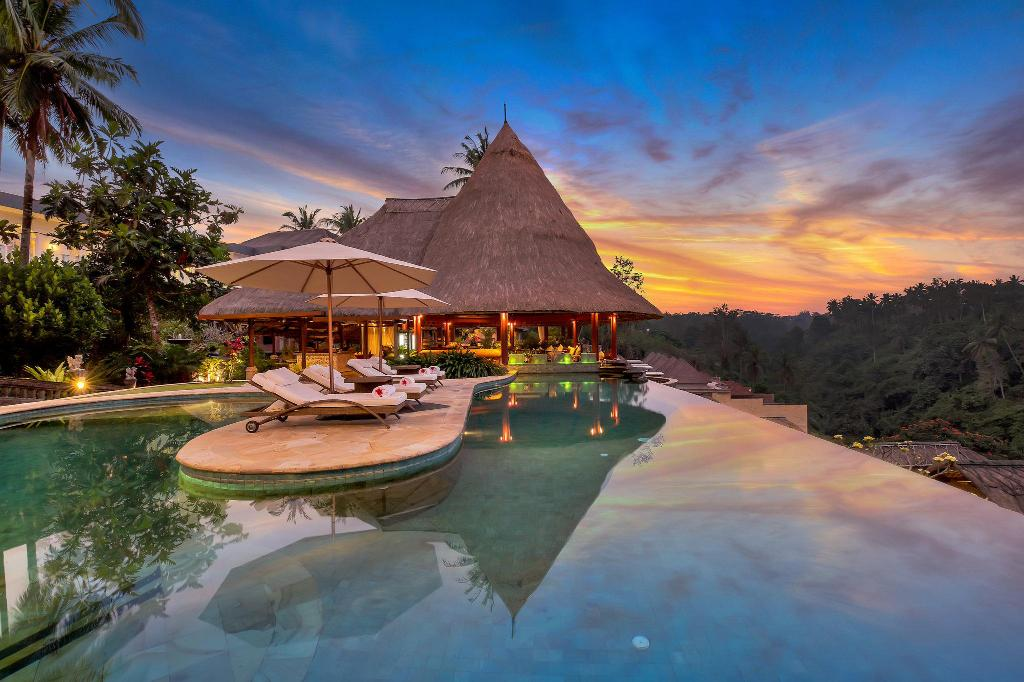 The hotel is one in every of the most effective and safest building in Asia. Additionally to the quality of state Care, all guests get free Wi-Fi all told rooms and free parking is inbound by automobile. Handily settled within the Ubud a part of Bali, this property puts you close up to attractions and attention-grabbing feeding choices.
As a tourists paying a visit to the known Sacred Monkey Forest Sanctuary is a must. Rated with five stars, this high-quality property provides guests with access to massage, edifice and bathtub on the scene. Alternative facilities embrace a spa, a fitness center, and a top pool, lounge, and grill. From feeding to enjoyment this building has it all. All rooms feature blackout curtains, air-con, a desk, work, a occasional and spoon with Cable/satellite TV, and a Walk-in shower. The building is pet-friendly, you're allowed to bring your pets.
Sukhumvit Park, Bangkok
The hotel is located on Sukhumvit Soi 24, utilize our complimentary shuttle service to easily travel to EM District, Bangkok's prime shopping center, and the nearby Phrom Phong Skytrain Station. The property provides various facilities including a 24-hour fitness center, squash, badminton and tennis courts, or enjoy our pool and Kids Club with your family. Room Facilities include a room Heater, Massage-Available in Room, Ironing Board, Fax Machine Room, Desk, and 24/7 room service. The accommodation also offers a gym, a spa, and a fitness center within the property. The hotel rooms include air conditioning with a wardrobe, desk, flat-screen TV, minibar, and telephone.
Pimalai Resort and Spa – Ko Lanta, Thailand
This hotel provides world-class facilities. Guests can take advantage of a free round-trip landing field shuttle, a pair of poolside bars, and a beach bar at Pimalai Resort And Spa. This hotel could be a great spot to relish the sun with a white sand beach, earth-feeding, and sun loungers. In addition, the property also provides a body wrap, body treatment, and aromatherapy at the on-the-spot spa is also available. The property provides a restaurant for guests to get pleasure from a meal at any of the four on-the-spot restaurants, that feature Thai cooking and ocean views. The athletic facility offers aerobic exercise categories and yoga classes; different things to try and do embrace rowing/canoeing, skin diving, and sailing. Free in-room WiFi is offered to any or all guests, along side a terrace and looking on web site.
The Royal Purnama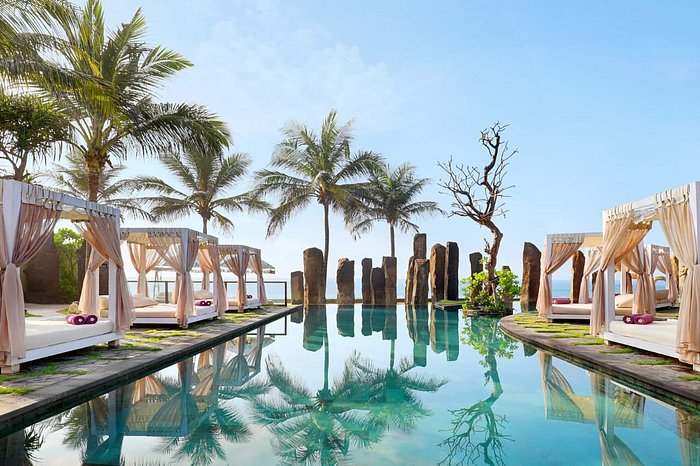 The hotel is committed to serving the requirements of discerning, refined travellers by mixing associate over-12-years-of-age policy with exceptional hospitality. The property aims to provide you with a rare and happy stay. The guests can rest beside the black crystal sands of Pantai Purnama (Full Moon Beach) on the southeast coast of Bali, Indonesia. The Royal Purnama presents forty nine personal pool villas and suites, embellished with the brilliance of the native superior skill.
At this exclusive store retreat, luxurious accommodation is supported by friendly impeccable service and a large vary of luxurious facilities. All rooms have a air Conditioning, Child Care, Cable/Satellite TV, Hair Dryer, Slippers, Attached Bathroom, Bottled Water in Room. Other facilities offered by the the hotel are a salon, Breakfast Services, Business Facilities, Conference Hall, Doctor on Call, free Parking, Restaurant, Room Service and paid wi-fi is also available.
CONCLUSION:
To make your stay more memorable and enjoyable we have made this list of the top 10 safest hotels in Asia. All these hotels provide excellent Hospitality and safety. These hotels provide fantastic service for a lifetime had a great evening, the dining and bar facilities at these hotels are amongst the best that the city offers, and bars are the perfect option for the elite party. These hotels will surely make you enjoy your stay as you experience all the things Asia has to offer. This time Indonesia made a jackpot by having more than one hotel in the list. Come and enjoy your stay!
Here is the link for top 10 hotels in Miami!
FAQs:
Is breakfast included in the price for these hotels?
Once you have retrieved the availability for a specific hotel for the requested dates, by clicking on the room name, you will find information about breakfast, taxes and room facilities. Many hotels do provide this facility!
What is the role of tourism in Asia?
Tourism plays a large role in the Asian economy. Spending on hotels and airline tickets was $92 billion in 2018 with an estimated 78 million new jobs created.
Which country is best for tourism in Asia?
The country in most demand right now is Vietnam and south korea.
Are visitors allowed in hotels?
Any visitor who stays over night would have to be registered with hotels at the Front Desk and the room rate may change depending upon occupancy.
What do you need to check into hotels in Asia?
You should always carry government-approved checking identification proof while checking in to the hotels .
Do hotels need ID of both guests?
For hotels in Asia you are required to register their guests with the local authorities, they will ask for the ID of all guests.
Is dine in open for hotels in Asia?
Restaurants and eateries that were open till midnight, are now allowed to operate till 10 pm with 50 per cent capacity
Can you get Amazon delivered to a hotels?
Yes, just give Amazon the hotel address and notify the front desk.
Why is Asia called Asia?
According to the Akkadian language of Mesopotamia, the land on the eastern side was named 'Asia,' which means sunrise, and the land on the western side was termed 'Erebu,' which means sunset. These names instantly gained popularity and spread all across the world.
Which country is No 1 in Asia?
In 2022, No. 1 is China closely followed by India.