In this article, we have discussed the top 10 beach resorts in Maldives. There are many natural tourist attractions in Maldives such as the lovely beaches, serene lagoons, and amazing diving spots, coral reefs for snorkelling and even great waters for surfing. Maldives offer unique setting as a special piece of paradise in the middle of the warm Indian Ocean. For most people it is far, far away from the maddening crowd, where you escape from the rush of the daily lives and take time to rest, destress and enjoy. To witness all these amazing sights, you need to stay there for a few hours or maybe 2-3 days at least.
Our article is about the best beach resorts in Maldives that will take you through a whole pack of stunning scenery, and delicious food, not to mention a healthy and most comfortable stay or dine out in Maldives.
HERE IS THE LIST OF TOP 10 BEACH RESORTS IN MALDIVES!!
Kandima Maldives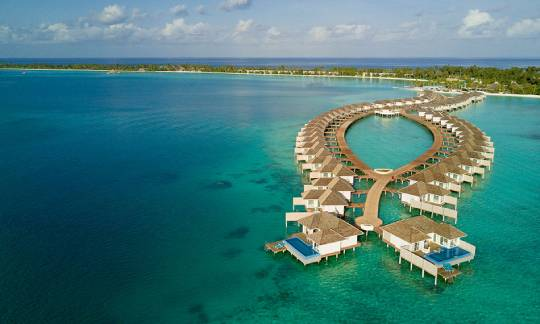 Kandima Maldives is one of the top 10 beach resorts in Maldives and is located on the most known island in Dhaalu, which offers variety of water-sports. The property also offers a beach club and court game and Volleyball courts. It offers a marine biology center, an art studio and many more facilities.
This resort offer free of cost internet connection in every unit and is surrounded by studios and villas with a personal terrace and personal pool, that provide endless tropical views. The property also features a gym with personal trainers and provides various activities like anti-gravity yoga, Zumba, and guests can also rent bicycles. The resort features around 10 on-site restaurants and bars. Other facilities like a spa. massage and children club is also available within the property.
W Maldives
W Maldives is one of the most known and best beach resorts in Maldives. The resort is known for offering a beautiful view, a diving center, fitness center and outdoor swimming pool. Free internet is available throughout the property. The accommodation features spacious and air-conditioned rooms offering direct beach, and ocean access that come with a private pool.
Every room come fitted with a 42-inch television, a CD and DVD player. Comforts at the property include a tea or coffee maker and minibar. The private restroom comes with a walk-in shower, a bathrobe, toiletries and a hairdryer. Free internet is available in all the rooms. The property also offers a gym with massage service, Ayurvedic and facial treatments. Guests can also enjoy water sports, yoga and other facilities at the resort. A library and front desk is also available 24/7.
Angsana Velavaru
Angsana Velavaru is one of the best beach resorts and offers around 3 on-site restaurant, and private luxury beachfront units with private pools on Velavaru Island. This is a family friendly resort that features both indoor and outdoor swimming pool as well as children's club, which offers a babysitting service.
This accommodation is half on the crystal clear waters of the Maldivian ocean and half on the white sandy beaches of the South Nilandhe Atoll. Each unit at the property features private balcony with swimming pools. Every room come pre-equipped with ultramodern facilities such as television, coffee, tea making machine, electric kettle, slippers and bathrobes. Free internet access is available in all rooms and throughout the property. The on-site restaurant serve a wide variety of local and global dishes.
Lily Beach Resort and Spa
Lily Beach Resort is one of the top 10 beach resorts in Maldives and is located at Huvahendhoo. This resort provides an perfect place for relaxing your mind and enjoy your vacations. This property features around two outdoor swimming pools, a diving center and 5 restaurant with various cuisine choices. It is around some 25-minute away from the International airport.
The accommodation features a private balcony or terrace. Every unit is supplied with a flat-screen satellite television and residential theatre system. In addition a tea/coffee making machines, and a safe is also available. Each room at the property features a flat-screen TV, an electrical kettle and a mini-bar with attached restroom is also offered. The connected bathroom equipped with a shower, hairdryer and other free toiletries.
Villa Nautica
Villa Nautica is one of the best beach resorts in Maldives. This property offers private units and rooms that features an outdoor swimming pool. Around 4 on-site restaurants are available in the property. The resort also features a gym, fitness center and free of cost internet access.
The accommodation features guest rooms with air-con, tiled flooring and a private balcony offering ocean views. Facilities in each unit includes a satellite television, a refrigerator and a safe. A tea or coffee making machine is also available in every room. This resort also features a fitness center, tennis courts, snorkeling and diving outfits are also available. The resort provides an on-site restaurant, a bar and a front desk.
Conrad Maldives Rangali Island
Conrad Maldives Rangali Island is one of the best beach resorts situated on two separate islands connected by a bridge. The resort offers huge and air-conditioned private units. The property also showcases the all-glass underwater eating place and a couple of spas.
The accommodation offers guests with conveniences, as well as free internet access, flat-screen TVs and DVD players. From the resorts room guests can view an stunning ocean or beach views through large windows. Guests can always relax at the resort spa. This high-quality property provides guests with access to massage, building and fitness center on-site. The resort is well equipped with an 24-hour room service. At the resort, each room includes air conditioning with a wardrobe, desk, safe, minibar, and telephone.
Sun Siyam Iru Fushi Maldives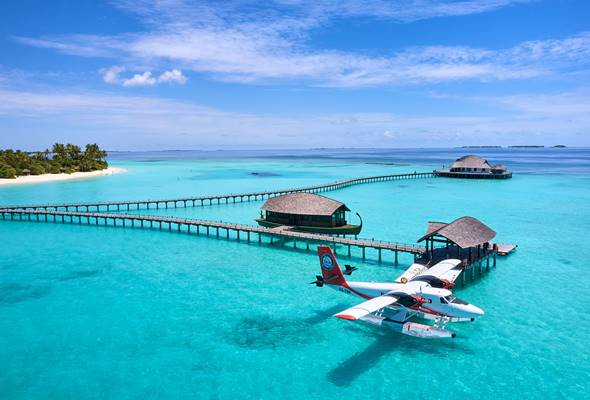 The Sun Siyam Iru Fushi is one of the top 10 beach resorts in Maldives featuring around 221 spacious rooms providing view of grown-ups only infinity pool overlooking the Indian Ocean and a family pool. Guests can relax themselves at the gym. The property offer free of cost internet connection in all rooms and throughout the property.
Every room at the property features a balcony offering stunning view of the ocean. Every air-conditioned room come pre equipped with a private safe, a flat-screen TV, and private washroom. The attached washroom come with a hairdryer, bathrobe, and free toiletries. The property options a 24-hour front desk which will assist guests with luggage, laundry and caretaker services. The property also serves the International buffet at the on-site restaurant whereas the bar offers a range of alcoholic and non-alcoholic beverages. Guests can enjoy garden views while working out at the fitness center. A variety of water sports, including sailing, windsurfing, fly boarding and scuba diving are available.
Finolhu Baa Atoll Maldives
This is one of the top 10 beach resorts in Maldives, situated within the UN agency world region. Around half the villas feature a non-public pool, whereas each villa unit offers a spacious living space with all the trendy comforts of home.
The property offer various on-site dining options, with the Beach room at its center. Guests can also experience at dive center gives a series of activities and excursions as well as snorkeling, diving, fishing, cruising, and many more. The property offers an inside and outside athletic facility, yoga, and, meditation at the outdoor Yoga or directly on the beach. This resort is just some 30 minutes from the international airport. This high-quality property provides guests with access to massage, building and fitness center on-site.
Villa Park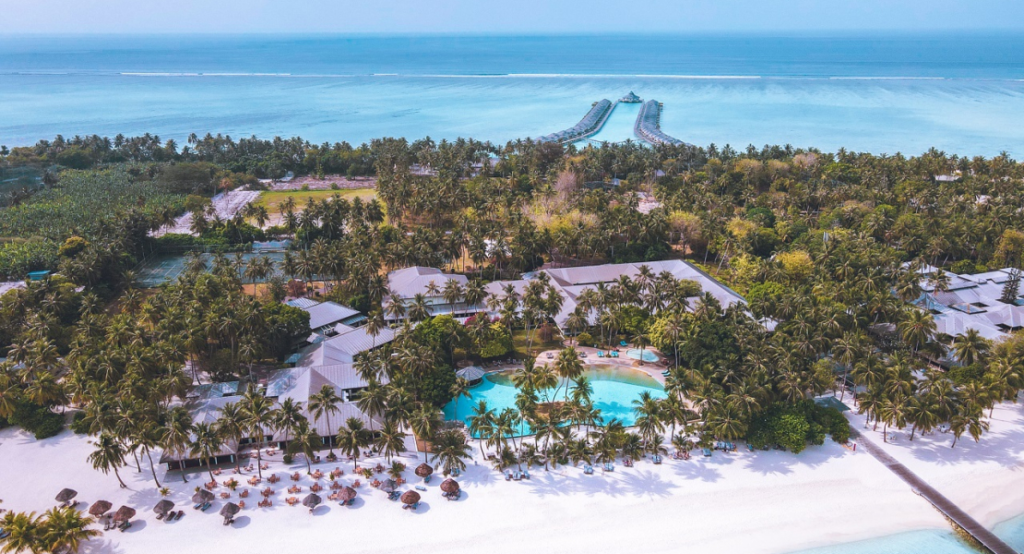 Villa Park is one of the best beach resorts in Maldives and is located in North Male Atoll . This resort features around three on-site restaurant and a bar with a pool view. Free internet access is available throughout the property and in all rooms. This is a family friendly resort with a children's club and services such as caretaker service.
The accommodation features some sports activities at the resort. All the spacious rooms at the property features a large flat-screen TV. Most of the bathrooms feature a bathtub and separate massage shower. Spa facilities at the resort embrace a pool, a hot tub, a steam bathtub, a sauna, and a fitness center with a personal trainer. Some units have access to seating area where guests can relax and have a cup of tea while enjoying the ocean or pool view. Each room come equipped with a private restroom fitted with a bath, bathrobes, slippers and free toiletries.
Emerald Maldives Resort & Spa
Emerald Maldives Resort is one of the top 10 beach resorts in Maldives. The property is located on the island, that consists of spacious and air-conditioned rooms. All units within this resort come equipped with a flat-screen TV with satellite channels. This property options some rooms with ocean views.
Each room at the accommodation features air conditioner, a seating area, a flat-screen TV, a safety deposit box, and a marble bathrooms with walk-in rain showers and bath tubs. After a busy day, guests can relax at the massage or Spa, salon, fitness center. A continental, buffet breakfast or menu is available at on-site restaurants. Emerald Maldives resort offers a children's playground. Languages spoken at the 24-hour front desk are English, Spanish, French and Hindi.
CONCLUSION:
To make your stay more memorable and enjoyable we have made this list of top 10 beach resorts in Maldives. This large resorts has spacious, clean, luxurious rooms with good views, friendly and helpful staff. The stay in these properties has always been comfortable, with great service, prompt staff, and pampering at its best. Discover the excitement of Maldives while staying in one of the best resorts in Maldives. These resorts in Maldives will surely make you enjoy your stay as you experience all the things the country has to offer. Come and enjoy your stay!
Here is the link for the top 10 most visited resorts in Malaysia in 2023 !!
FAQs:
Why Maldives is famous for vacation?
The Maldives is one of the dreamiest travel destinations that offer spellbinding sceneries, warm temperatures, the fresh breeze of the seas, beautiful coral reefs and secluded stays. Maldives provides idyllic locations with powdery white sands, blue lagoons and turquoise oceans.
What is premium all-inclusive in the Maldives?
The premium all-inclusive indulgence plan includes an array of exclusive benefits, from Champagne breakfasts to gourmet cuisine. It also includes premium beverages, such as spirits, beers, wines, cocktails, soft drinks, milkshakes, and exotic teas.
What is the best time to visit Maldives?
The best time to visit the Maldives is between November and April. The climate is warm and tropical at that time. The resorts are also needed to be reserved before hand at this time.
How much does it cost to stay in Maldives for a week?
A one week trip to Maldives can cost you about 40,000 to 1,00,000 INR. Maldives is known as a luxury destination with its world class resorts and resorts offering splendid services as well as extraordinary experience to the travelers.
Do resorts charge per guest?
resorts room rates are based on double occupancy. You usually don't have to pay extra for kids in the room. But resorts often charge $20 to $50 per additional adult per night.
Can you check-in anytime at a resorts?
You can probably check in any time you like as they have a desk clerk 24/7, but if you are going to be as late as you indicate you should call ahead and make a reservation
Can you leave resorts keys in room?
You don't need to check out at the front desk. You can leave the key cards in the room
Can you have visitors in resorts rooms?
Guests will be required to sign in their visitors at the Front Desk of any resorts where they will complete a Visitor Slip stating their name, room number and name of their visitor.
Is Maldives cheaper than Bali?
Bali is without a doubt cheaper to visit than The Maldives. Not only is accommodation cheaper but the food and activities are also very budget friendly
What are the Maldives people known for?
Steeped in rich culture and tradition, the Maldives culture is heavily shaped by Indian, Sri Lankan, Malaysia, Arab, Persian, Indonesian and even African influences. Maldivians are incredibly warm, welcoming and friendly people who will go above and beyond to make your holiday unforgettable.