Here is the list of the top 10 hotels in Agra to make your visit more fun. Agra is one of those Indian cities that has accepted modern developments yet preserved its own culture and traditions. Agra is a popular tourist destination as it is home to one of the 7 wonders of the world, the Taj Mahal. It is a sneak peek into the architectural history and legacy of the Mughal empire. To witness all these amazing sights, you need to stay there for a few hours or a day at least.
Our article about the best hotels will take you through a whole pack of stunning scenery, and delicious food, not to mention a healthy and most comfortable stay or dine-out in Agra.
HERE IS THE LIST OF TOP 10 HOTELS IN AGRA!!
The Oberoi Amarvilas Agra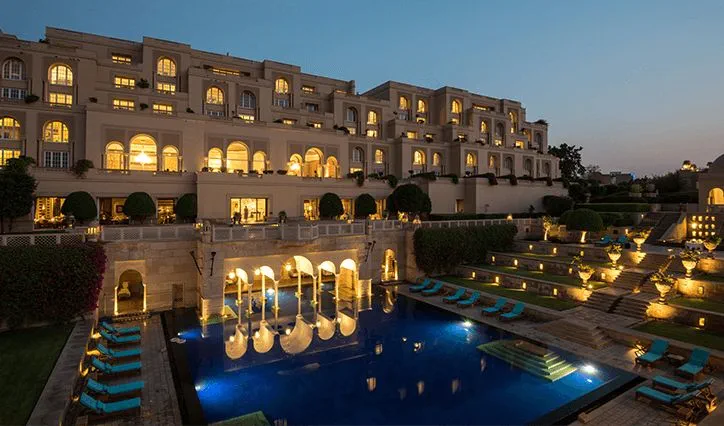 This is one of the best hotels in Agra and is around 601 m away from Taj Mahal. The property accommodates a flat-screen TV and provides free parking and internet access within each room of this property. These beautiful rooms goes well along with trendy fashionable interiors and huge windows.
All these units have a personal safe and private toilet. Guests can visit the Spa for a body massage, swim, or exercise at the athletic facility within the hotel. The property offers ticketing services at the tour table. The restaurant serves international dishes, native favorites and ancient Indian specialties. In addition, the bar offers fine wines and cigars.
DoubleTree by Hilton Agra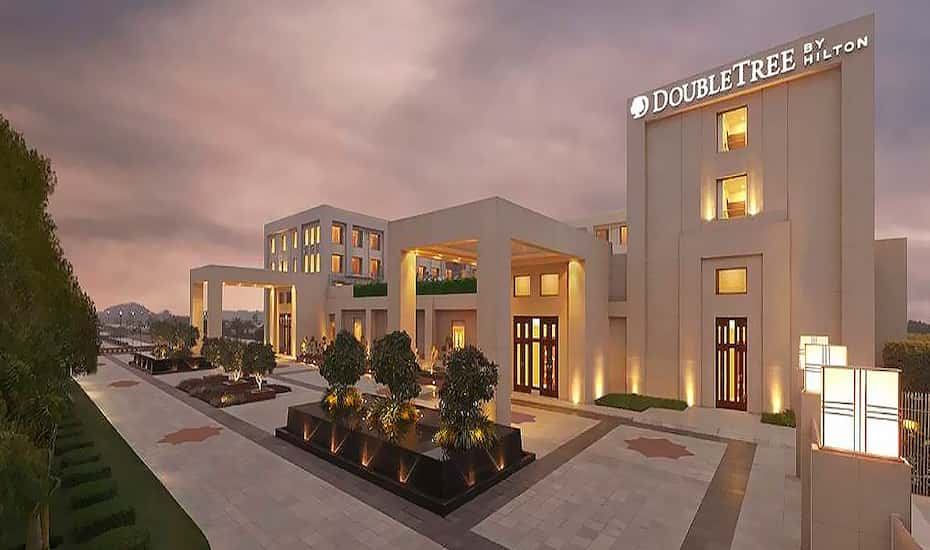 Doubletree is undoubtedly one of the top 10 hotels in Agra. Each room's guests get free internet access and free parking is available for guests arriving by their car. The property is strategically located in Tajganj, allowing all its guests to access and proximity to native attractions and sights. The hotel offers world-class luxuries, and a meeting or conference center is also available for meeting purposes. In addition, all other room comes with facilities like air conditioners, wardrobe, and more.
Crystal Sarovar Premiere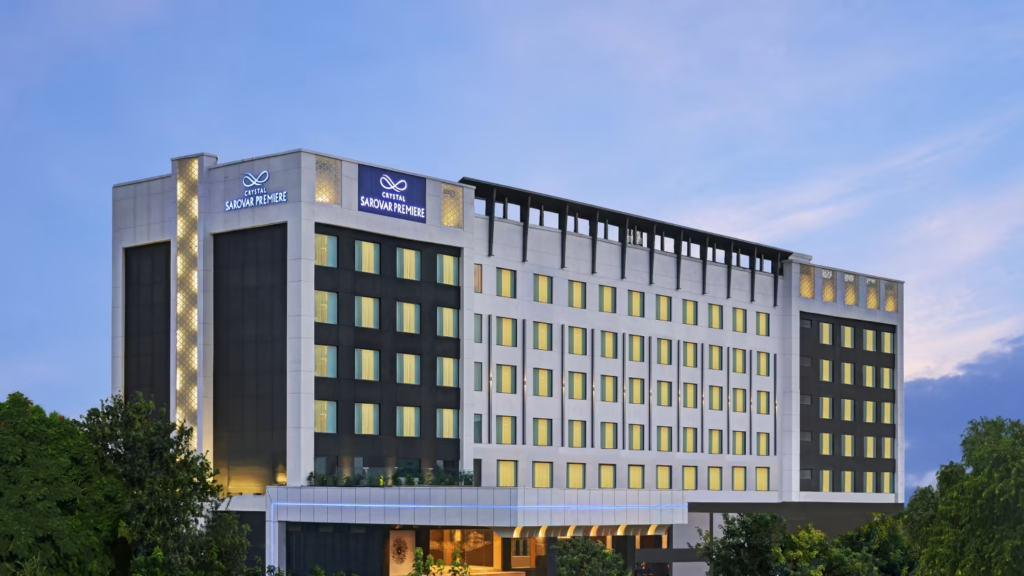 Crystal Sarovar Premiere Agra is located in the Taj Ganj district in Agra and is just some 1.2 kms from The Taj Mahal. Each hotel room include a flat-screen TV with satellite channels and a safety deposit box. Some rooms feature a seating area to relax in after a busy day. It also offers a gym, a spa, and a fitness center within the property. At the hotel, each room includes air conditioning with a wardrobe, desk, safe, flat-screen TV, minibar, and telephone.
This hotel also features of a 24-hour front desk and express check in/check out services. A tour desk and concierge services are also available. Guests can enjoy the on-site restaurant. The property also offers breakfast in the room and packed lunches.
Tajview – IHCL SeleQtions

Tajview – IHCL SeleQtions is spread over 9 acre of lands where guests can enjoys beauiful views of the building. Apart from 24-hour room service, the building also provides an outdoor swimming pool, a fitness center and a much needed spa.
The hotel has elegant rooms featuring marble flooring and air con. In addition, each hotel room consists of a cable TV, mini-bar and private safe are normal options all these rooms. connected bathrooms feature hot-water showers and toiletries. Traditional Indian therapies and body massage will be enjoyed at the spa. Guests also can check in for preparation categories or get their portrait done on-the-spot. A business center and florist also are on the market. The stylish 24-hour Svanga room serves Indian and international dishes. This is one of the best hotels in Agra. Hence, making it to the list of top 10 hotels in Agra
Trident Agra
The Trident, Agra, is situated elegantly amidst stunning gardens, fountains, improved central courtyards, made of red stone equivalent to the Mughal era. All rooms of the hotel offer air conditioning, a seating area, a flat-screen TV with cable channels, a safety deposit box, and five-fixture marble bathrooms with walk-in rain showers and soak tubs. After a busy day, rejuvenate at the massage or Spa, salon, fitness center, and swimming pool.
Courtyard by Marriott Agra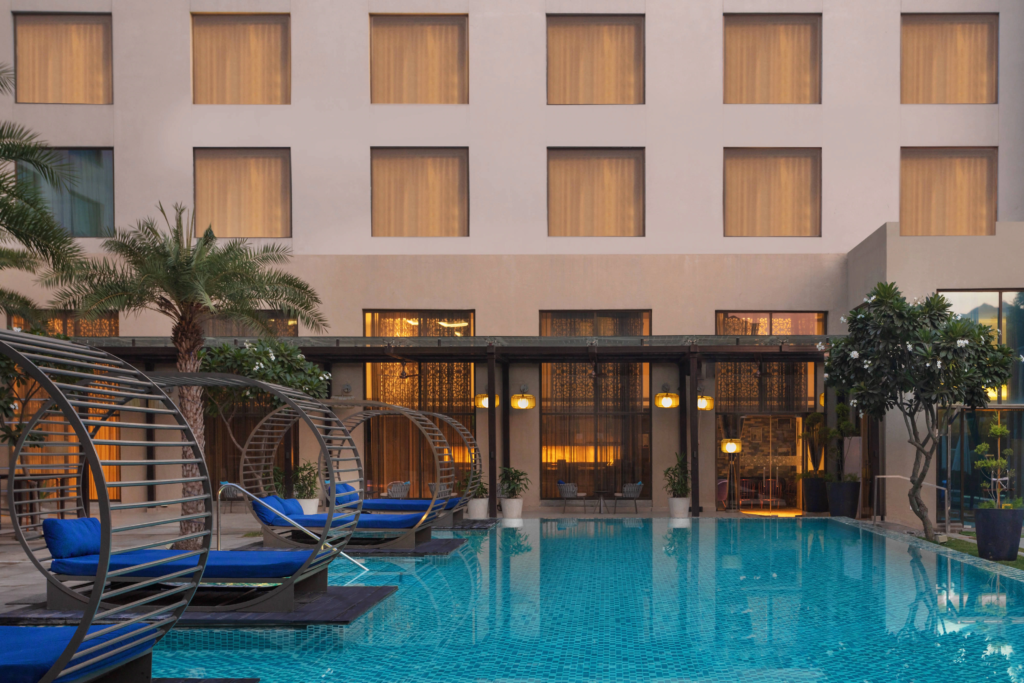 This is one of the best hotels featuring an outdoor pool, a fitness center and a spa and upbeat center. It additionally has four restaurants available on-site. Each room of the hotel features a flat screen tv, television, mini-bar and shower.
Here they can give you with a flat-screen television and a mini-bar. that includes a shower or shower, personal necessities additionally comes with a hairdryer and bathrobes. The hotel provide its guests a 24-hour front desk, games area and a garden. alternative facilities offered at the property embody baggage storage, meeting/banqueting area and laundry. The property offers free parking. Guests will relish four feeding choices at the property – MoMo restaurant , Anise, calcedony and MoMo two Go.
Radisson Hotel Agra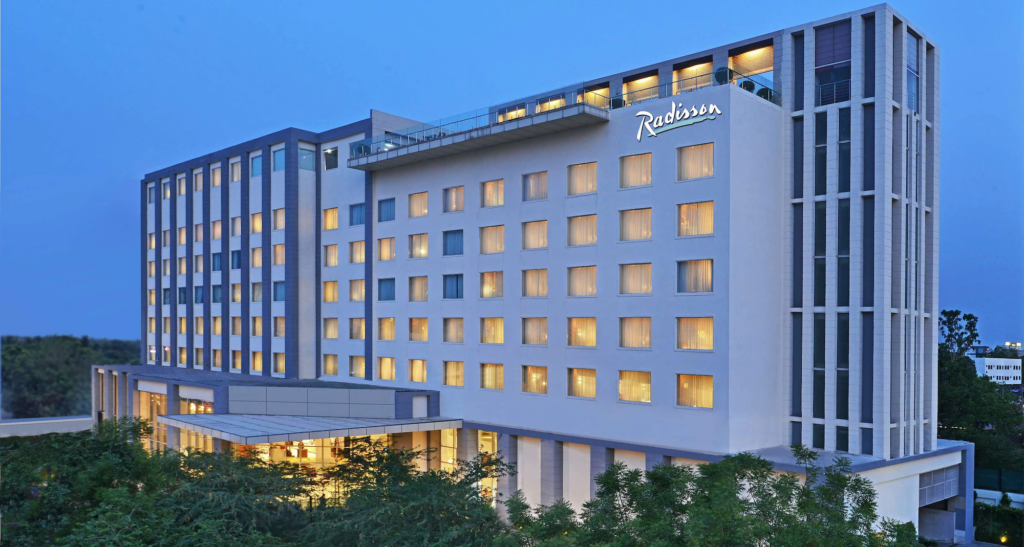 The hotel allows free parking and also the Wi-Fi offered is free within the property. Internet so that you'll be able to keep in reality is also available. This is one of the best hotels in Agra is strategically located in Taj ganj, permitting guests to access and providing close proximity to  native attractions and sights.
 This high-quality property provides guests with access to massage, building and fitness center on-site. The hotel is well equipped with an outdoor pool and 24-hour room service. At the hotel, each room includes air conditioning with a wardrobe, desk, safe, flat-screen TV, minibar, and telephone.
Hotel Atulyaa Taj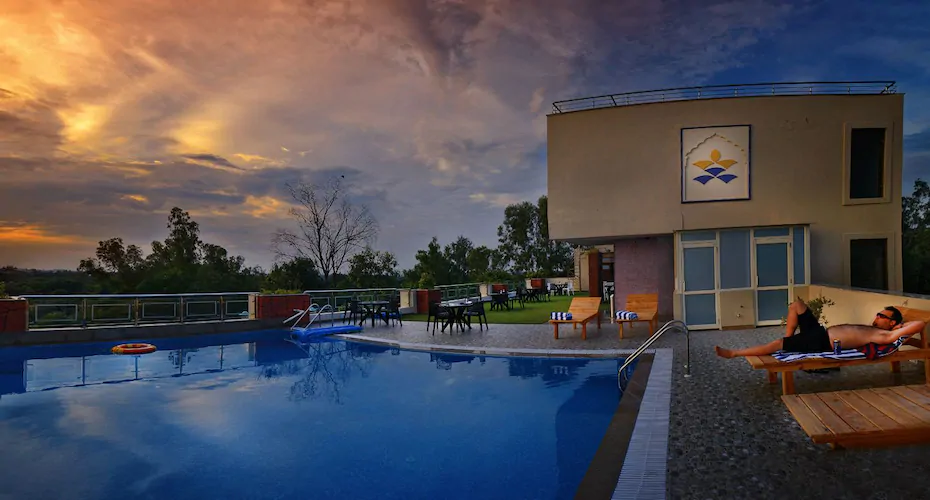 Hotel Atulyaa Taj features an well-maintained outside swimming pool for a refreshing dip. Free internet access is available altogether within the property. Each hotel room features a flat-screen TV, an electrical kettle and a mini-bar area is also offered. The connected bathroom equipped with a shower, hairdryer and other free toiletries.
The property is near both transportation and tourist spots which makes it one of the best options for tourists and top 10 hotels in Agra. The hotel incorporates a 24-hour front desk, The tour table employees will assist in coming up with the daily trip, automotive rentals and ticketing services, Currency exchange, and baggage storage facilities. The in-house eating place within the hotel serves Indian, Chinese, Italian, and continental cuisines. The property also offers in-room eating and food deliveries.
ITC Mughal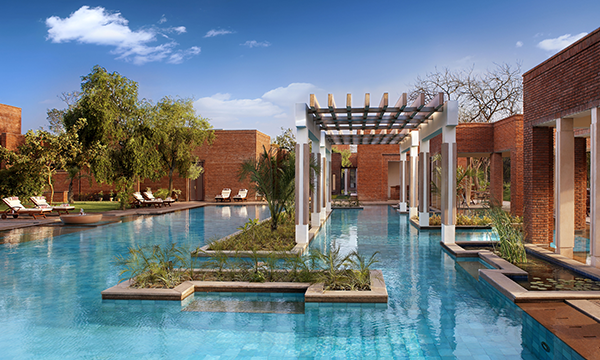 The property is known as the fitting tribute to the Mughal builders of the past. The building is sprawled over 93077 sq. m of Mughal-style gardens, with the characteristic use of water channels , fruit trees, flowers and shaded walkways. In addition, free parking and internet access is provided within the property. The hotel is in near to the most famous locations and shooting spot. All 233 rooms of this property is beautifully maintained. The property features a resplendent spa, signature culinary art offerings and a spread of elaborate eating facilities.
Holiday Inn Agra Mg Road, an IHG Hotel
This hotel is located some km away from Taj Mahal, a 20-minute drive from the historic Taj Mahal. It offers a spa and an outdoor swimming pool. In addition, Free parking for all those coming with their vehicles is also offered.
Rooms at the hotel features an air conditioner with 24-hour television satellite channels. Private bathroom with basic necesities and a mini-bar and tea/coffee creating facilities is also available. Guests can always visit the fitness center for refreshing or to relax at the pool within the hotel. The hotel also offers laundry service and other facilities. Guests can also enjoy multi-cuisines at restaurants while having a drink with loved ones.
CONCLUSION:
To make your stay more memorable and enjoyable we have made this list of the top 10 hotels in Agra. The stay in these properties has always been comfortable, with great service, prompt staff, and pampering at its best. All these hotels are well maintained and neat. Overall these locations gave you easy access to all historical monuments and transportation. These Hotels in Agra will surely make you enjoy your stay as you experience all the things Agra has to offer. Come and enjoy your stay!
Here is the link for the Top 10 hotels in Nainital!!
FAQs:
Is breakfast included in the price?
Once you have retrieved the availability for a specific hotel for the requested dates, by clicking on the room name, you will find information about breakfast, taxes and room facilities. Many hotels do provide this facility!
Do hotels check your bags in India?
Access to both guests and the staff is being strictly monitored and physical searches of baggage are being conducted. Many hotels do this process of scanning the bags too!
Are food deliveries allowed in hotels?
Yes, you can definitely bring food or have a delivery there.
Can hotels see what you look up?
While your hotels management usually won't be able to see the contents of your communications, they can easily find out what websites you visit and how much time you spend browsing the Internet
What do you need to check into hotels in India?
You should always carry government-approved checking identification proof while checking in to the hotel.
Do hotels need ID of both guests?
In places where hotels are required to register their guests with the local authorities, they will ask for the ID of all guests.
Should I use a VPN at a hotels?
You should always use a VPN when connecting to public Wi-Fi, as it keeps your personal information encrypted and safe.
Can you get Amazon delivered to a hotel?
Yes, just give Amazon the hotel address and notify the front desk.
Do hotels block Netflix?
Many hotels and public places across the world, will have filters and blockers on certain websites.
Can you ask for a different hotel room?
you always are within your rights as a guest to request a different room for any reason at all be it a better view, a different size bed or just not loving your room.