In this article, we have discussed the top 10 Resorts in Mussoorie. Mussoorie, the queen of hill stations, is famous for its scenic beauty, good social life and entertainment. The excellent climate makes it an attractive holiday resort. Thronged by tourists, it give beautiful vibes especially during the summer season. To witness all these amazing sights you need to stay for 2-3 days at least. This article helps you select best resorts in Mussoorie to stay in.
Our selection of the best resorts in Mussoorie will take you through a whole pack of stunning scenery, delicious food, not to mention a healthy and most comfortable stay or dine-out in Mussoorie.
THESE ARE THE TOP 10 RESORTS IN Mussoorie!
Royal Orchid Fort Resort
Royal Orchid Fort Resort is one of the best resorts in Mussoorie. This resort offer a 24-hour front desk to help guests. This property also feature a mini golf area and free internet access in all resort rooms. Car parking is also available.
All resort rooms are well-equipped with an air-con, an electrical kettle, tea, and a flat-screen TV, bathrobes, slippers, a hairdryer and free toiletries. Guests have access to a 24-hour front desk, shop, and other facilities at the property all the time. This resort provide a terrace, business center and meeting/banqueting room. Other services like ironing and cleansing are provided as well. The property offers free parking to all its guests.
Kamay The Solitaire Resort
Kamay The Solitaire Resort is one of the top 10 resorts in Mussoorie and provide best facilities to all its guests. The property offer free wireless network connection within the resort and provide its guests with free car parking. The resort also feature a pool.
Each resort room comes pre-equipped with an air-con, a flat-screen TV, and a bathroom with a hot and cold shower facility and a hairdryer. An electrical kettle is also available in almost every room. Some of the rooms have direct access to the pool. Breakfast is available at the property on daily basis. The dining place is open all day and serves best food. The property offer beautiful mountain view and fresh air.
JW Marriott Mussoorie Walnut Grove Resort & Spa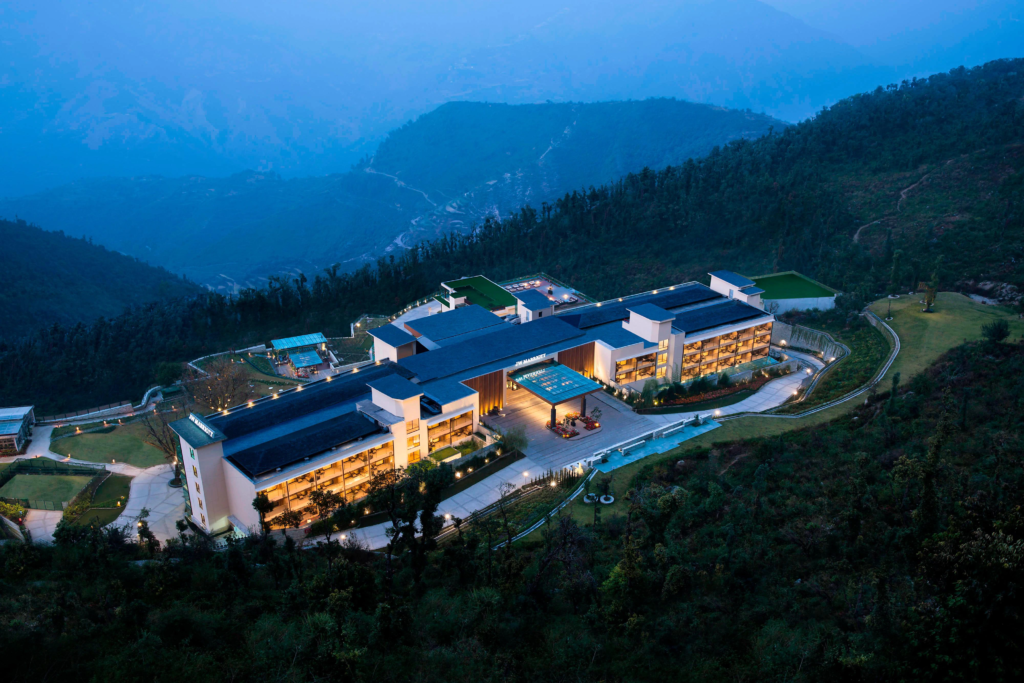 JW Marriott Mussoorie Walnut Grove Resort & Spa is one of the best resorts in Mussoorie and it options an indoor swimming pool, a spa and business center. The building also feature a fitness center. This resort is found in Mussoorie and provide various games for guests such as bowling and table tennis. The property offer separate area for kid club and more.
Each one of the resort room is elegant and comes with an air conditioner, a television, and a balcony. Personal washroom is also available that includes a shower and a bathtub, a shower gown and a hairdryer. At the resort guests can relax at the massage parlour. Other facilities offered at the property includes an games area and a tag service. The property also offers free parking. Guests can enjoy various activities such as hilltop-outdoor activity, site for golf lovers, amphitheater for showcasing cultural activities and hosting vocalizing nights. The all-day dining place is one of the best multi-cuisine, Teppan serving Asian restaurant and it also serves Italian menu. The resort also feature beverages area  served at the poolside bar.
Pride Ashiyana Resort Mussoorie
Pride Ashiyana is one of the best resorts situated inside a pair of 8 kilometer of Gun Hill. The resort offers rooms with air-con and provide 24-hour front desk, this property also provides guests with a restaurant. The property is in close proximity with various famous tourist spots.
At the resort, each rooms comes with a wardrobe and a flat-screen TV, buffet breakfast, Other facilities offered are security safety deposit box and a private shower. The property options a 24-hour front desk which will assist guests with baggage storage, laundry and caretaker services. A tour table and business center is provided for convenience. Guests can always make a request for massage service and also rent a vehicle to explore the island. The property also serves the International buffet and offers a range of alcoholic and non-alcoholic beverages.
Aloha On The Ganges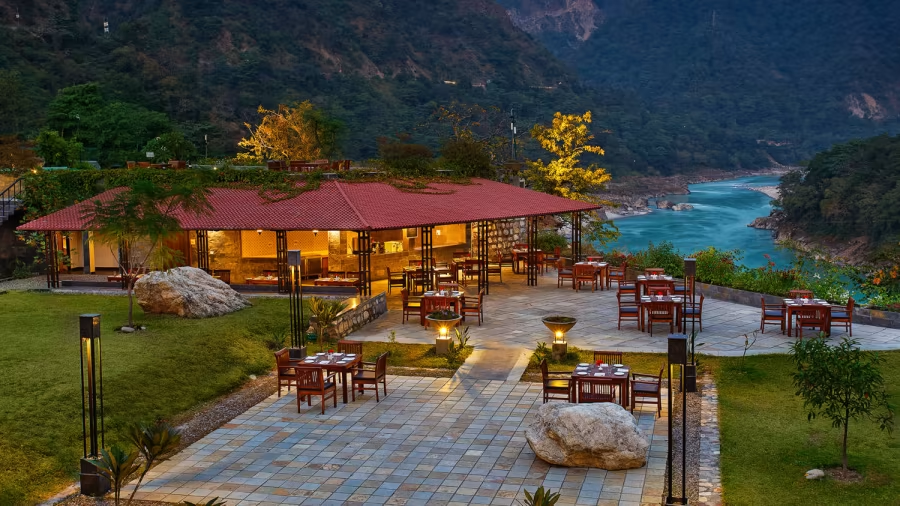 Aloha On The Ganges is one of the top 10 resorts in Mussoorie and offer free internet connection throughout the property. The car parking is also available on-site and free of any additional charge. The resort is strategically situated in Tapovan, allowing its guests to access to local attractions and sights conveientiely.
In addition, the property also features various sports activities. All the spacious rooms at the  resort have an large flat-screen TV. Most of the bathrooms feature a bathtub and separate massage shower. Spa facilities at the resort embrace a pool, a hot tub, a steam bathtub, a sauna, and a fitness center with a personal trainer. This resort provide dining and drinking choices on-site, restaurant, dinner place, and outdoor restaurant It conjointly offers a hair and facial  salon and therefore the Spa is also available. Guests can always dine at the these restaurants that provide best national and international dishes.
Fortune Resort Grace – Mussoorie
Fortune Resort Grace is one of the top 10 resorts in Mussoorie and features a fitness center. The property also options an in-house restaurant on-site. Guests can also relax themselves at the resort's spa. The resort is located in a close proximity with other famous tourists spots.
Every room is spacious and is provided with a 32-inch flat-screen TV and a charger. The resort also offer a buffet daily for all its guests. The property also feature a children's playground and business center. It offers 24-hour caretaker and laundry services. Some of the resort rooms have a balcony. Facilities at the property include a kids indoor play area and a bar. The on-site hotel/ restaurant also offer some of the best Indian cuisine. A 24-hour front desk and massage services are available within the property.
Sterling Mussoorie

This is one of the top 10 resorts in Mussoorie and feature a spa and a kid's club with a variety of activities like chess and table tennis. The property also features free personal parking. At the resort Each room is equipped with a LCD TV and bathroom that includes a shower, that additionally comes with a hairdryer and bathrobes. some rooms have a balcony that offer beautiful mountain views.
The resort offers fitness center and 24-hour front table. In addition to all its features it also offers a library and reading facility. Guests can enjoy variety of menu from Indian, Chinese till Continental cuisines within the restaurants.
juSTa Rasa Retreat & Spa Rishikesh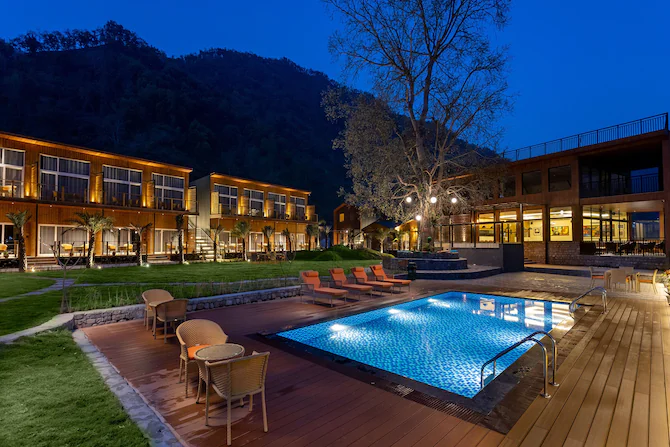 juSTa Rasa Retreat & Spa Rishikesh is one of the best resorts located in Bijni, and 44km from Mansa devi Temple. The resort provides accommodation with a dining house, and offer free personal parking. This property also features an outdoor swimming pool and a shared lounge. All rooms feature a flat-screen TV with cable channels and a personal rest room. Accommodation  also options a 24-hour front desk, airport shuttle transfers. The property also provide 24/7 room service and free internet connection.
Each resort room comes air-conditioned and pre equipped TV. All rooms of these resorts have a satellite TV and balcony. Resort's personal rest room with marble tile, huge bathing tub and separate shower is additionally provided. The resort also feature a full-service spa that options massage, facials and body treatments. Guests can enjoy themselves at the pool or near the pool. The lobby bar at the property offer a beautiful view. Guests at juSTa Rasa Retreat & Spa Rishikesh are also provided with a buffet breakfast. The resort also offers a terrace.
Yog Niketan by Sanskriti
This is one of the best resorts in Mussoorie which features a garden, terrace and lake views, The resort is around 27km from the Mansa Devi Temple. The resort provide various facilities including, a 24-hour front desk and room service, beside free internet access throughout the property. Every units at the property feature a balcony with a garden view. All rooms are equipped with air-con, a flat-screen TV with satellite channels, a kettle, a shower, and bathrobes.
The property also offers buffet breakfast within the property. Patanjali International Yoga Foundation is a pair of kilometer away. The resort's guestrooms are designed to produce an optimum level of comfort while giving best facilities and amenities like seats, coffee/tea maker, hair dryer, complimentary drinking water, mini bar. All rooms are highly furnished and come with a flat-screen TVs, minibars, balcony, CD and DVD players, bathrobes and slippers.
Jharipani Castle
This is one of the best resorts in Mussoorie and is 3.2 km from Gun Hill point, Mussorie. This resort  options accommodation with a restaurant, free private car parking, a garden and a terrace. Each room at resort come pre-equipped with a wardrobe, a flat-screen TV, slippers, towels, and other basic necessities.
Each resort rooms feature a flat-screen TV, and a separate toilet. Some of the rooms even offer beautiful views. The Move & Relax area includes a fitness area, a spa, a steam tub and a sauna. Free parking is accessible on the site. Every unit have a cable TV, a kettle, restroom is equipped with a shower. For guest's comfort, slippers and free toiletries are also made available by the resorts. In addition, the resort offer a 24-hour front desk. This is one of the top 10 resorts in Mussoorie.
CONCLUSION:
To answer all your curiosity about the most visited resorts of all time we have made this list of the top 10 resorts in Mussoorie. All these resorts provide excellent Hospitality. These resorts offer best service for a lifetime had a great evening, the dining and bar facilities at these resorts are the best that the Mussoorie has to offer, and bars are the perfect option for the elite party. These resorts will surely make you enjoy your stay as you experience all the things Mussoorie has to offer. Come and enjoy your stay!
Here is the link for the top 10 resorts in Tokyo in 2023!
FAQs:
Why is Mussoorie so famous for tourism?
Mussoorie is famous among tourist as Hill Station, Restaurants, Mall Road, Shopping, Weekend Getaway, Honeymoon Destination. Mussoorie is recommended destination for Corporates, Couples, Family and Kids, Foreigners, Groups, Solo.
Is breakfast included in the price for these resorts?
Once you have retrieved the availability for a specific resorts for the requested dates, by clicking on the room name, you will find information about breakfast, taxes and room facilities. Many resorts do provide this facility!
Why should I visit Mussoorie?
It is one of the best places to experience the local lifestyle of the enchanting destination. Shop for your loved ones from The Mall Road, The Tibetan Market, Cambridge book Depot, Himalayan Weavers, Landour Bazar, Sisters Bazar, etc. Mall Road in Mussoorie is undoubtedly a major tourist attraction.
Are food deliveries allowed at these resorts?
Yes, you can definitely bring food or have a delivery there.
Are visitors allowed in resorts?
Any visitor who stays over night would have to be registered with resorts at the Front Desk and the room rate may change depending upon occupancy.
Why Mussoorie is called Queen of Hills?
One of the most beautiful hill stations in India, the place is endowed with the most scenic land-scapes you will find anywhere in India and it is no surprise that it has earned the sobriquet, the Queen of Hills.
Do resorts need ID of both guests?
For room in resorts you are required to register their guests with the local authorities, they will ask for the ID of all guests.
Do resorts charge for Wi-Fi?
Resort fees are usually charged to cover amenities like wifi and gym access, but they're not optional and you have no choice but to pay them even if you choose not to use the amenities they cover.
What is famous about Mussoorie?
Famous as 'Queen of Hills' the place is truly mesmerising. Mussoorie is very well known for amazing views and the most delicious variety of Maggie.
Who should visit Mussoorie?
The place is meant for all age groups. Be it senior citizens looking for a quiet and beautiful stay or a couple looking for a romantic time or friends looking for having a good time together. The Maggi points in between are great to get hot Maggii and for taking pictures.