In this article, we have discussed the top 10 Resorts in Vietnam this 2023. Tourism is important in Vietnam. For backpackers, culture, nature lovers, and beach-lovers. Vietnam has become a new tourist destination in Southeast Asia. You can enjoy, have fun and spend an amazing vacation in this country. To witness all these amazing sights, you need to stay there for a few hours or maybe 2-3 days at least.
Our selection of the best resorts in Vietnam will take you through a whole pack of stunning scenery, delicious food, not to mention a healthy and most comfortable stay or dine-out in Vietnam.
THESE ARE THE TOP 10 RESORTS IN VIETNAM!
Furama Resort Danang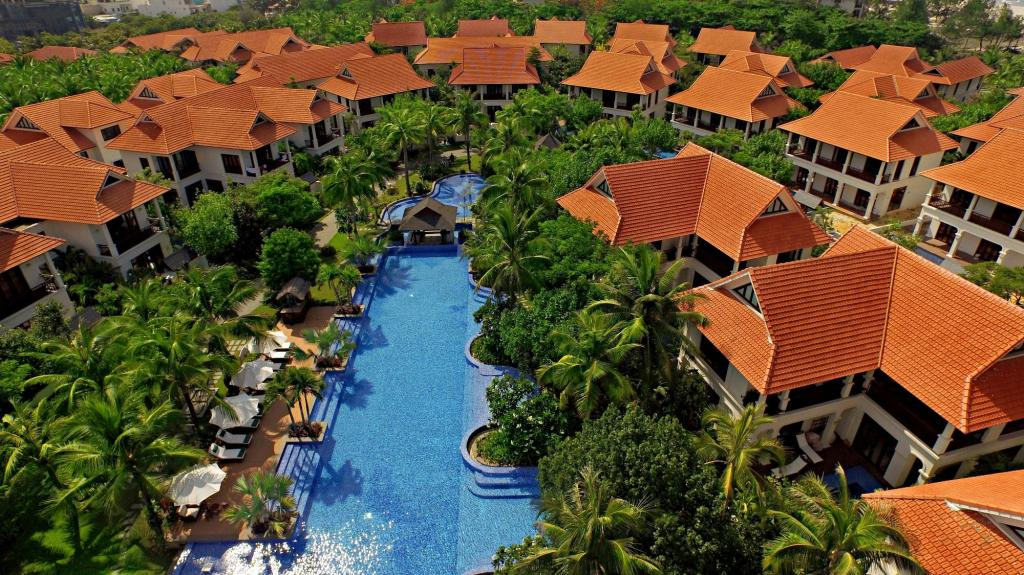 Furama Resort Danang is one of the best resorts in Vietnam. This resort begins your journey to UNESCO-listed sites like Hue Imperial town which is situated just a 2-hour drive from the resort. The resort offer facilities like pools, a spa, and 4 restaurants and dining choices for its guests. The resort features spacious air conditioned rooms that feature a personal balcony offering beautiful tropical views.
Rooms are fitted with timber flooring and chic carpets, and are available with walk-in closet, seating house and huge marble bathroom. The Furama offers deluxe beauty and spa treatments that offers a massage and facial treatment. Guests can relax with steam baths and get pleasure from a massage by the pool. The Other in-house facilities features windsurfing, ocean kayaking and water sports. The resort  also offers yoga and martial art on the beach. In addition guests can enjoy at the cinema and games room that is supplied with Play Stations.
Fusion Resort Phu Quoc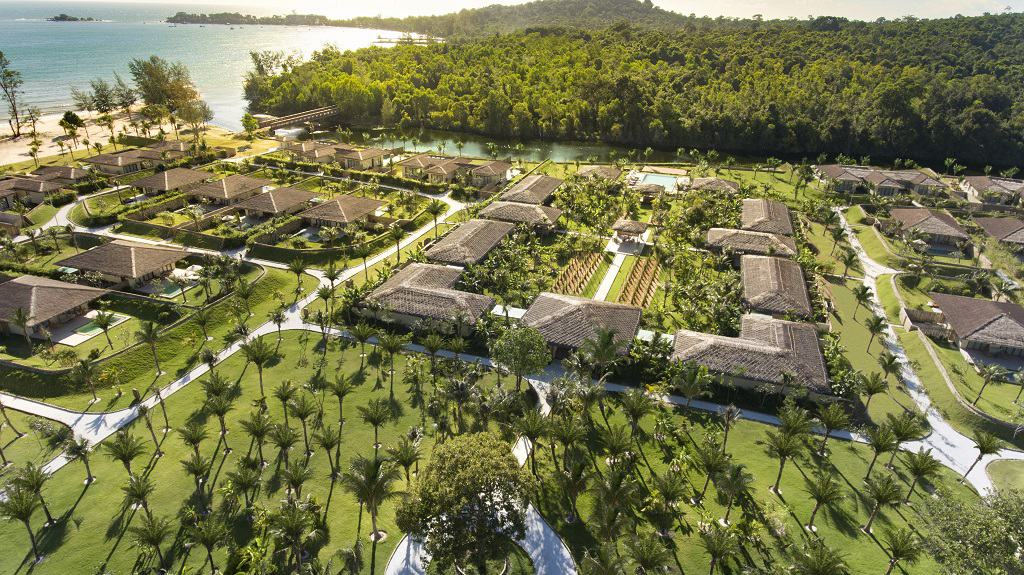 Fusion Resort Phu Quoc is one of the top 10 resorts in Vietnam that comes With personal pools and secluded gardens outside every spacious thatched villas, and tasty dining choices and a premium spa facility. These resorts and villas are placed in a private bay within the north of Vietnam's most breathless tropical islands, with each ocean and river-front views.
This is one of the best resorts in Vietnam for couples, families, and teams of friends searching for a best five-star experience. The resort offer various games for the children too, an ocean-facing cocktail bar and a secluded adults-only pool for guests is also available. Phu Quoc is legendary for its freshly caught fish, and serving it to its guests.
Vinpearl Resort & Spa Nha Trang Bay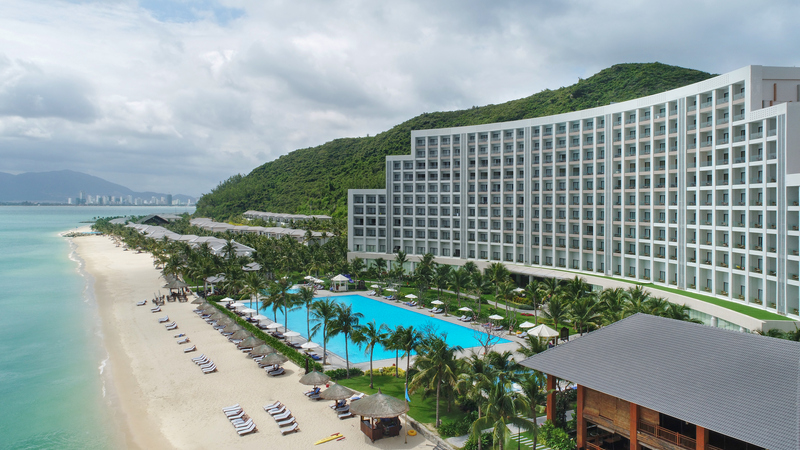 Vinpearl Resort & Spa Nha Trang Bay is one of the top 10 resorts in Vietnam among all 5-star resorts with spacious, air conditioned rooms. The resort offer  free internet access throughout the property. The resort is within the lush, personal gardens. This resort is just around some 3 km from Bao Dai Palace while Vinpearl Nha Trang Golf Club is also 3 km away from the property.
The property is very close to various famous attractions. All resorts rooms are well-equipped with a flat-screen cable TV, safe and counter. A seating room and personal washroom that comes with tub, shower, hairdryer and free toiletries. The property feature a separate living and room with a personal pool. Guests can directly approach the 24-hour front desk for currency exchange, tour arrangements and ticketing and caretaker services. Other facilities includes an gaming area and guests can indulgence in experience of spa treatments at Vincham Spa.
Vinpearl Luxury Nha Trang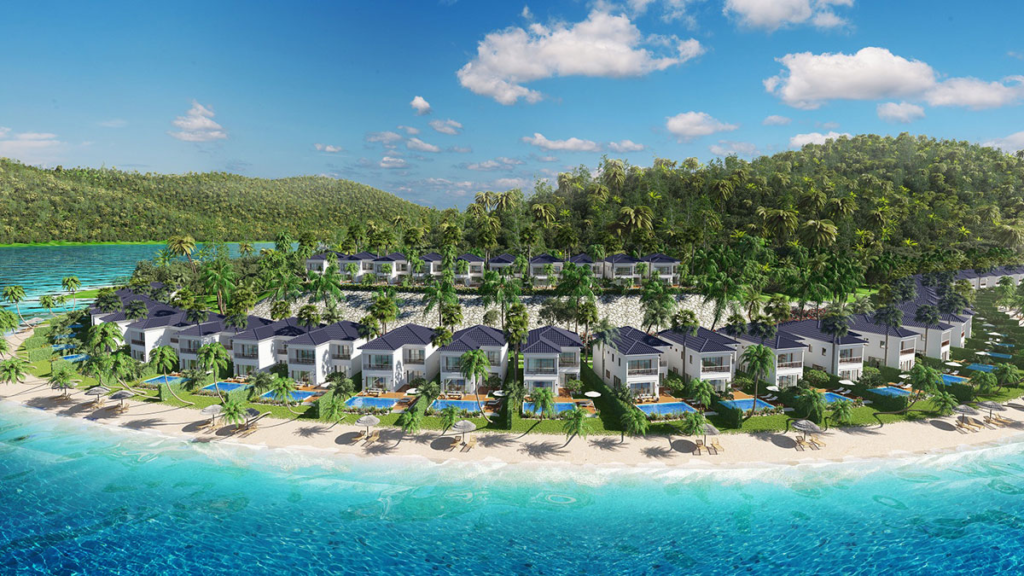 Vinpearl Luxury Nha Trang is one of the best resorts in Vietnam that offers free internet access in all rooms throughout the property. This resort is handily located within the Hon Tre which is a part of Nha Trang.
This property puts its guests close to the various famous attractions and fascinating eating choices. The resort features spacious and fashionable rooms, every room features a seats by the window. Artworks and rugs beautify the rooms, that are well-equipped with a flat-screen satellite television, a DVD player and electronic safe. In addition, a mini-bar and marble floor with outside view is available. These resorts also features a multi cuisine restaurant, lounge bar and fitness center.
Vinpearl Resort & Spa Da Nang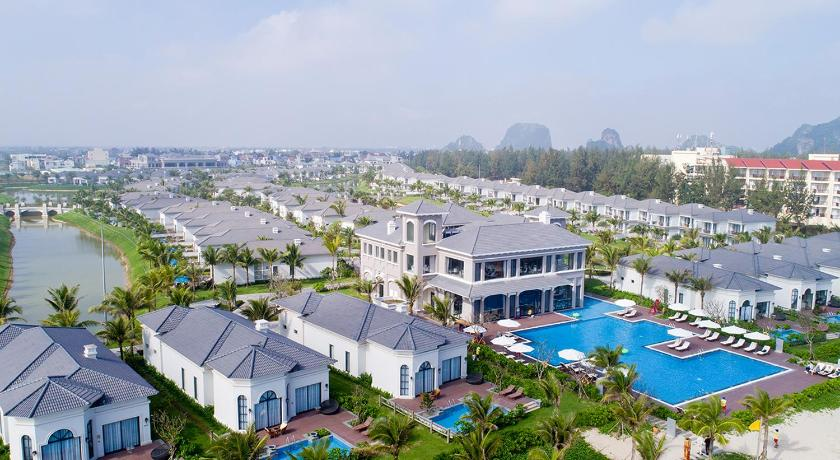 Vinpearl Resort & Spa Da Nang features modern neo classical design and elegant villas in da Nang .The property has a total of 4 in-house restaurants and outdoor bar. Guests can experience rejuvenating massage or relish a sauna session at the spa. The property also offer a gym.
Every resort unit contains a personal rest room and a bathtub, air-con, a TV and a icebox. Some units have a seating and/or a balcony. In-house serves an array of Asian and European dishes While Monsoon offers Vietnamese and South East Asian cuisines. The property also offers room service. All resort rooms features air-conditioned and a flat-screen TV, refrigerator, geyser, and free internet access. Each room comes with a servant facility and caretakers can be assigned on request
The Anam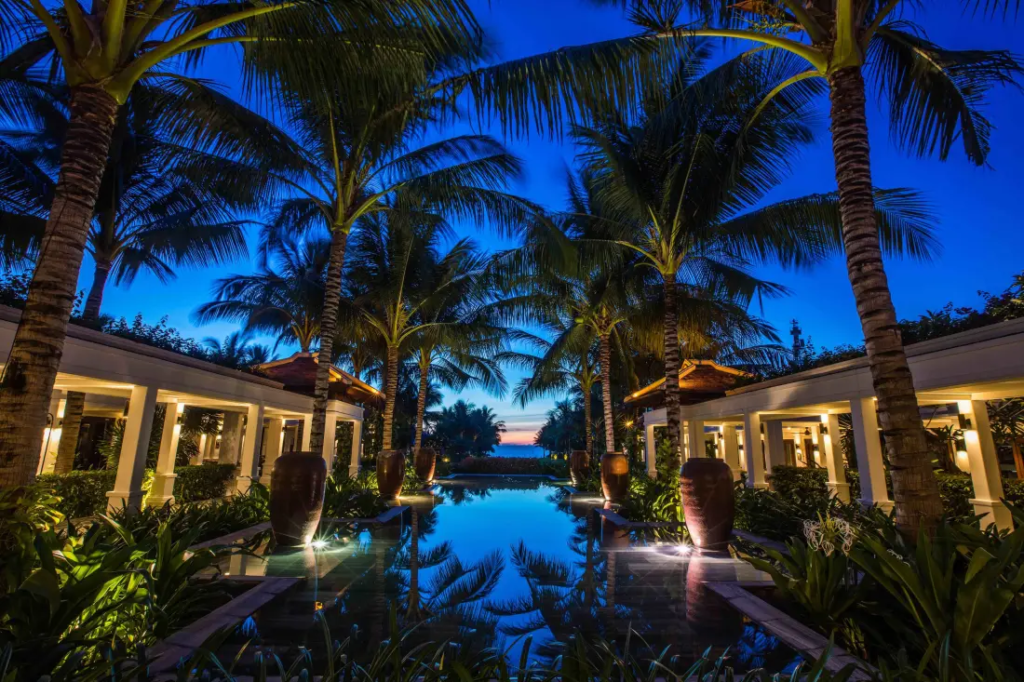 The Anam is one of the best resorts in Vietnam and also one of the best 5-star colonial beach resorts in Vietnam. The resort has it all from the design and style to the littlest details. The resort provides an illusion of going back in time.
All resort rooms have an giant window offering either city views or mountain views. Other resort amenities include a flat-screen TV and internet access. A buffet breakfast is served at terrace on the top floor. The Anam has a recreation center, and it also includes an fitness center and a spa. This is one of the top 10 resorts in Vietnam.
InterContinental Danang Sun Peninsula Resort
In addition to the quality of IHG Clean Promise, all guests in InterContinental Danang Sun Peninsula Resort gets to have free internet access in each room as well as free parking is provided to guests arriving by their own vehicles. The property is handily settled within the Tai Quang a part of a part of, this property puts everyone close to attractions and attention-grabbing dining choices. 
You should definitely pay a visit to the infamous Marble Mountains. This high-quality property provides guests with access to massage, restaurant and fitness center on-site. The resort also features an swimming pool. The property also offer a fitness center and business center here, and free car parking and internet access is available for all its guests. This is one of the top 10 resorts in Vietnam that offer a restaurant, a bar and various other facilities for all its guests.
New World Phu Quoc Resort

New World Phu Quoc Resort is blessed by the year-round tropical treasure which is the tip of southmost Phu Quoc island. This is one of the best resorts in Vietnam which offers a retreat nearer to nature to its guests with white sands of Khem Beach. 
Guests can select any available villa from 375 villas in seven configuration. At the property, every unit includes a table, flat-screen TV, some goods and a counter. All resort Rooms provide marble flooring, climate management and blackout material. In addition the resorts also features a business center. The property is close to various shopping malls and famous tourists attractions.
Hyatt Regency Danang Resort & Spa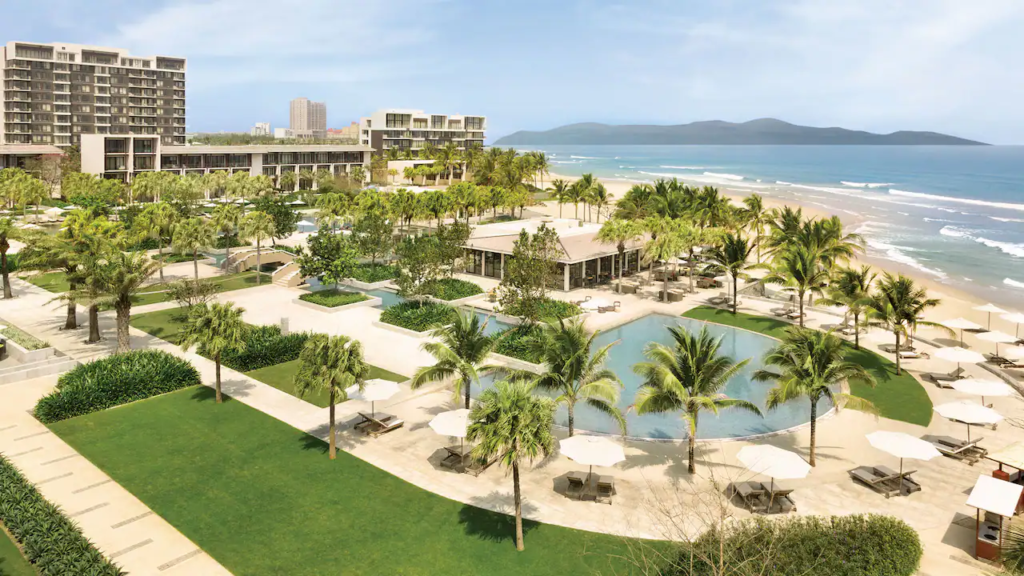 The beachfront Hyatt Regency danang Resort and Spa is located on the picturesque coast of Da Nang and is around 5-minute drive from Marble Mountains. The property offer gorgeous views of the Vietnam's East ocean. This luxury hideaway resorts features 3 in-house dining choices, an outdoor pool and a spa.
The property features spacious, air conditioned rooms. Each unit is elegantly decorated in soothing earth tones and fitted with a personal balcony offering ocean views. A flat-screen TV, DVD player and tea/coffee maker. In addition every unit features a marble rest room which come with a shower, separate tub and free toiletries. Guests can enjoy themselves with ancient massage therapies or beauty treatments. The resort additionally feature full business facilities, a tour table. Room service is obtainable 24/7.
Bel Marina Hoi An Resort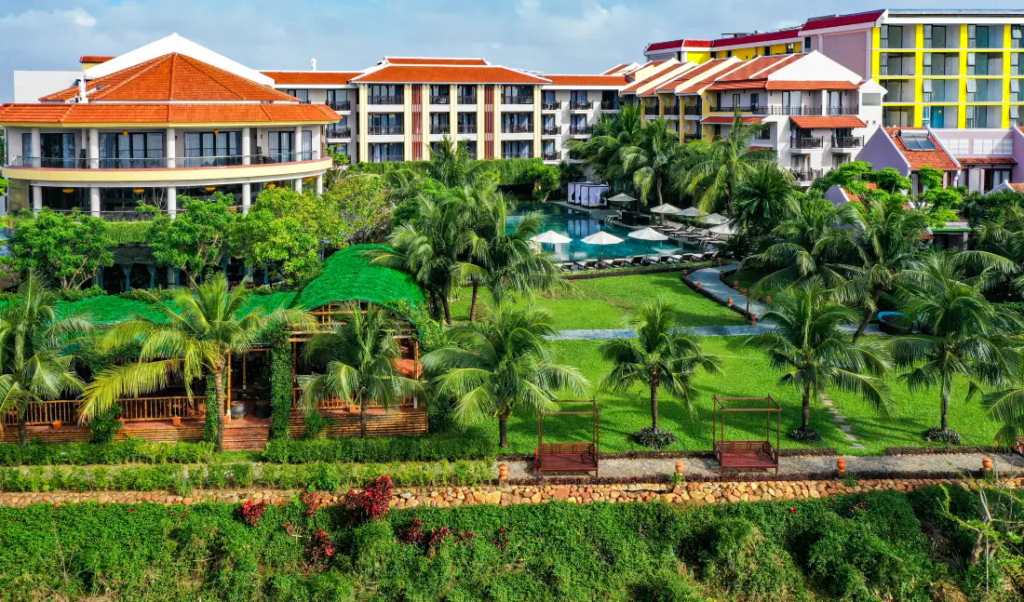 Bel marina Hoi is one of the top 10 resorts in Vietnam. The property is within a convenient 7-minute walk from Hoi an Ancient city. This resort options a spa and fitness center, in addition to free internet access within the property.
The property is fitted with parquet flooring, air conditioned villas are equipped with a private safe, a flat-screen cable TV and sideboard. A wardrobe and seating area. All personal washrooms comes with a hairdryer, bathtub, shower facilities and free toiletries. The resort also features an 24-hour operating front desk and security. This resort also offer luggage storage, laundry and caretaker services. The tour desk will assist with bookings of tour excursions and travel arrang- ements. In addition, in-house Marine eating house serves Vietnamese and international cuisines to all its guests.
CONCLUSION:
To answer all your curiosity about the most visited resorts of all time we have made this list of the top 10 resort in Vietnam. All these resorts provide excellent Hospitality. These resorts provide fantastic service for a lifetime had a great evening, the dining and bar facilities at these resorts are amongst the best that the country offers, and bars are the perfect option for the elite party. These resorts will surely make you enjoy your stay as you experience all the things Vietnam has to offer. Come and enjoy your stay!
Here is the link for the top 10 resorts in Udaipur in 2023!
FAQs:
Why is Vietnam popular with tourists?
Vietnam is not only famous for its beautiful scenic places but the Vietnamese street food as well. Vietnamese cuisine is well-known due to the usage of fresh ingredients in dishes with various spices and herbs. With many things to try, tourists can hardly enjoy them all in one trip.
Why is Vietnam so special?
Ruins, beaches, rice terraces, spectacular landscapes and some of the most beguiling cities on earth can all be discovered within Vietnam's boundaries. It also has the crown for the world's cheapest beer for its locally brewed Bia Hoi that is freshly made every day and contains no preservatives.
What is the most popular from of Vietnam?
Pho is arguably the most popular food in Vietnam. It is served both at restaurants and in families, eaten for breakfast, lunch or dinner. This famous dish is basically rice noodle soup but the broth is seasoned in a very unique way that appeals to almost everyone.
Are food deliveries allowed at these resorts?
Yes, you can definitely bring food or have a delivery there.
Are visitors allowed in resorts?
Any visitor who stays over night would have to be registered with resorts at the Front Desk and the room rate may change depending upon occupancy.
Is Vietnam a good country to travel?
Vietnam is a popular destination for travelers thanks to its beauty and attractiveness.
Do resorts need ID of both guests?
For room in resorts you are required to register their guests with the local authorities, they will ask for the ID of all guests.
Is Vietnam one of the most beautiful countries?
VietNamNet Bridge – As the home to many world famous sites such as Sa Pa, Ha Long Bay, Hue and others, Vietnam was voted by readers of the Rough Guides as one of the 20 most beautiful countries in the world.
What makes a resort different than a hotel?
Hotels' primary purpose is to provide comfortable lodging. A resort is more like a self-contained development that can be a destination in its own right. Most travel needs such as dining, entertainment, shopping, local transportation, and more can be found within the resort's establishment.
Are flights included in all-inclusive?
Technically an all inclusive vacation is one where you pay one price up front that includes flights/all transportation, accommodations, meals, drinks and activities.