Here is the list of the top 10 hotels in Chennai to make your visit more fun. Chennai exhibits a perfect combination of art, architecture, dance, music and drama. Famous as the biggest cultural and economic center down south, Chennai was earlier known as Madras. The city houses several Hindu temples, churches and museums. To witness all these amazing sights, you need to stay there for a few hours or maybe 2-3 days at least.
Our article about best hotels will take you through a whole pack of stunning scenery, delicious food, not to mention a healthy and most comfortable stay or dine out in Chennai.
HERE IS THE LIST OF TOP 10 HOTELS IN CHENNAI!!
The Leela Palace Chennai
The Leela Palace is Chennai's first and only seafront city hotel, it stands at the intersection of the Bay of Bengal and the Adyar river. The design and artwork of the hotel are drawn from the inspiration of the Chettinad Dynasty. This 11-storeyed hotel has a total of 326 rooms and suites.
The hotel offers world-class luxuries, and a meeting or conference center is also available for meeting purposes. In addition, all other room comes with facilities like air conditioners, wardrobe, and more. The central business district and local attractions are very close to Leela palace. All rooms have a sea view to make guests stay more fun and memorable.
BEING ONE OF THE BEST HOTELS IN CHENNAI AND GOT AN INCREDIBLE RATING OF 5 OUT OF 5 STARS!!
Sheraton Grand Chennai Resort

Sheraton Grand Chennai Resort and Spa, Mahabalipuram is beside the beach on the East Coast Road. Dakshina Chitra heritage museum is close to the hotel, while Chennai International Airport is approximately 40 km from the hotel. The resort showcases grand & luxurious architecture, with several unique sites at various parts of the resort.
All Rooms, provide balconies, which come with a beautiful combined view of the pool, green lawn & deep blue sea, along with free Wi-Fi, LED TV, mini-fridge, and in-room tea & coffee station with 24/7 room service. A two-bedroom villa that comes with a private pool and kitchen is available as well. Other standard luxuries include a pool, a fitness center, a spa, and a kids club. The most comfortable & perfectly lighted restaurants are available. You can also find a South Indian Cuisine restaurant within the hotels. The hotel also offers a club to enjoy your drinks besides a pool with slow background music.
WITH ITS BEAUTIFUL ARCHITECTURE, INTERIOR DESIGN, AND FACILITIES THE HOTEL SECURED 5 STARS!!
The Raintree Hotel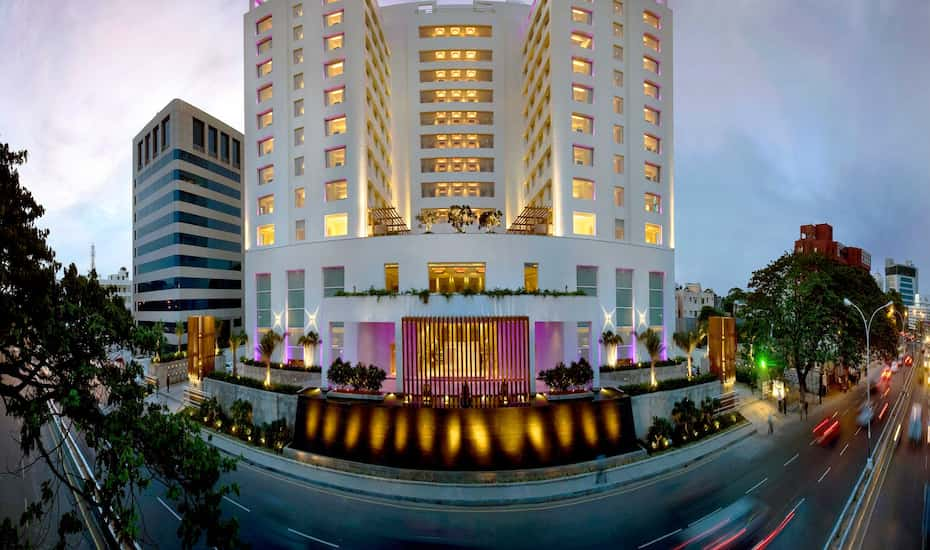 The Raintree Hotel is an eco-friendly hotel located in south India. The hotel offers a total of 108 rooms including 2 suites, a swimming pool, a gym, and a health spa.
It provides cuisines from across the world, a stylish bar, bathroom with a shower, free toiletries, a hairdryer, and a bathtub. Other facilities include a 24-hour front desk, business center, and shops. The city hotel provides excellence for five-star dining in Chennai. You can enjoy a delicious meal at the all-day dining restaurant.
RAINTREE HOTEL GO 4.5 STARS!!
Novotel Chennai SIPCOT
Novotel Chennai SIPCOT is located in the heart of the IT hub, SIRUSERI, on the Rajiv Gandhi IT expressway. It is a common base for business travelers. In 25 km you will see Chennai International Airport. On the opposite side of the hotel, you can see Consultancy Services, HCL, Cognizant, Hexaware, Valeo, Vestas, Chettinad Health City, and more.
The hotel is pet-friendly and allows you to walk pets within the hotel. The hotel is surrounded by beaches, cafes, Live art Museum. All rooms feature Novotel beds having city, ECR view and Sea view, flat-screen TV, mini bar, Tea/Coffee maker, and free bathroom amenities. Suites offer a living room and bathtub with city and sea views.
For betterment, security hotels provide a video door-calling system. All-day dining serving international & regional cuisines is available. The poolside a range of cocktails and comfort food. The property also offers contactless dining at a multi-cuisine restaurant and poolside bar serving comfort food & beverages. The hotel also offers in-dining service and different food facilities for children below 16 years of age. Other facilities include a 24-hour fitness center, Spa, open Swimming pool and in-room dining, round trip airport shuttle.
This is the most famous pet-friendly hotel among all other hotels in Chennai, with a 5-star rating with all facilities and well-maintained staff and rooms!!
ibis Chennai SIPCOT Hotel
The ibis room is all about the convenience of the guest. The hotel provides a calm environment. Ibis Chennai SIPCOT has easy access to IT companies located in Siruseri SIPCOT SEZ, ETA Techno Park, ELCOT SEZ, TIDEL Park, RMZ Millennium, and Ascendas IT Park.
The location is also best for those visiting for medical treatment at The Global Hospital. The hotel is surrounded by medical, business as well as educational facilities. The hotel has easy access to tourist spots like Crocodile Bank on ECR, Rock Temple at Mahabalipuram, and Auroville at Pondicherry.
The overall rating of hotel is 4.5!!
The Park Chennai
The Park Chennai is in the heart of the city's business district. The hotel offers the best dining and bar facilities among all the other best hotels in Chennai. The hotel provides a variety of cuisines varying from national to international levels.
In addition, this hotel also provides beverages in the bar. The Park also offers a gym, a spa, and a fitness center within the property. At the hotels, each room includes air conditioning with a wardrobe, desk, flat-screen TV, minibar, and telephone. The hotel is a perfect destination for both business travelers and tourists.
Overall rating of the hotel is 4!!
Grand Chennai By GRT Hotels
Grand Chennai by GRT Hotel is located in the heart of the city. It is a 133-room, chic, and exclusive FIVE-star hotel. The hotel is easily accessible from the Chennai airport and the central railway station. Grand Chennai hotel is surrounded by malls, business centers, restaurants, and more making it an easily accessible hotel. You can enjoy Indian cuisine and street food whenever you crave it. After savoring the food you can drink your favorite beverages.
A hotel can handle up to 800 people during business meetings or wedding events. The hotel rooms offer air conditioning, a seating area, a flat-screen TV with cable channels, a safety deposit box, and a private bathroom with a shower, free toiletries, a hairdryer, and a bathtub. Other facilities include a 24-hour front desk, business center, and shops.
The hotel secured its position among all other top hotels in Chennai by scoring 4.5 stars!!
Raj Palace Sundar
RAJ PALACE SUNDAR is in the midst of greenery, exquisitely furnished and sprinkled with luxury. It offers a total of 36 rooms hotel with air conditioning, flat-screen TV, a minibar, and a telephone. In addition, guests have access to 24-hour front desk, and room service. All rooms have been designed for guests' comfort.
RAJ PALACE SUNDAR is a Business Class hotel mixed with tradition and relaxation. The hotel also offers you conference Halls and meeting spaces. The hotel also provides you with Indian, Japanese, and Chinese cuisines. An open swimming pool is also available. The hotel also offers a spa for relaxation. WIFI is available within the hotel.
This hotel also got a rating of 4.5 proving its uniqueness among all other hotels!!
Feathers A Radha Hotel
Desiring to be one of the best hotels in Chennai, Feathers is located on Mount Poonamallee road making it the closest hotel to Chennai Trade center, DLF SEZ park, and Miot hospital. The hotel is also closely connected to Chennai domestic and international airports.
The hotel provides convenient access to all business areas. The rooms provide all conveniences with contemporary designs for guests. With wifi connection, a large desk with an ergonomic chair and fresh breakfast options are also available. The guest can also enjoy a wide variety of dining options with an open sky dining experience. The hotel can fit up to 5000 guests comfortably, making it perfect for business or social gatherings.
THE HOTEL GOT FULL 5-STAR RATINGS MAKING IT ONE OF THE BEST HOTELS IN CHENNAI!!
Taj Club House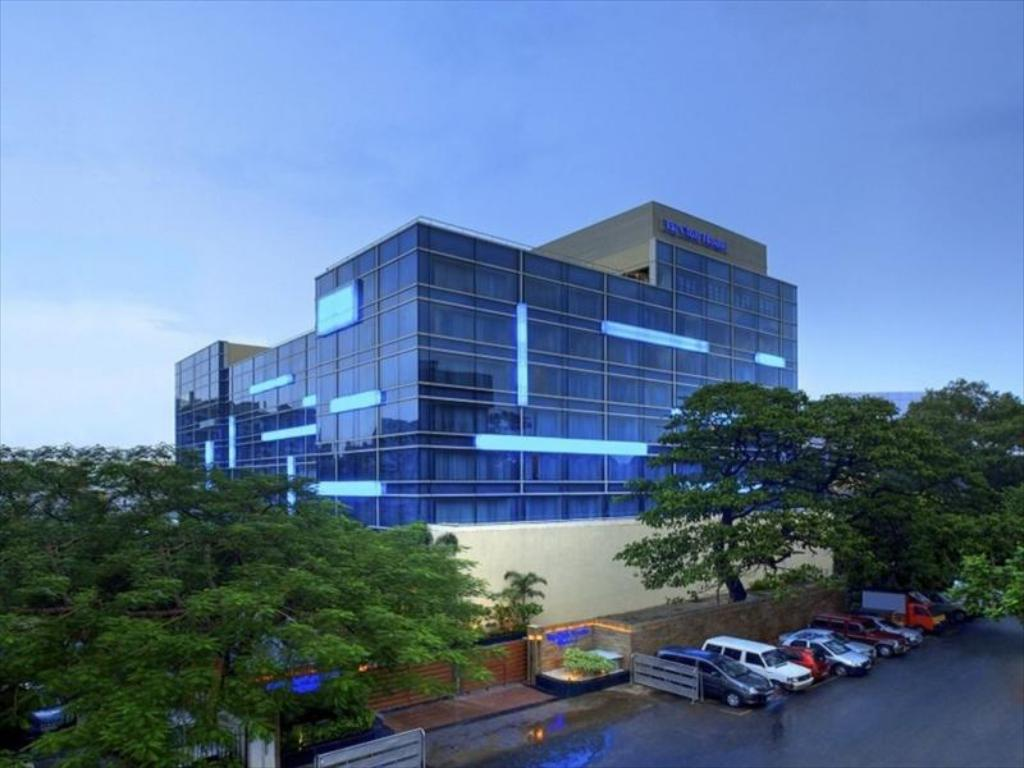 Taj Club House is located on Clubhouse Road and is famous for its majestic homes of British luminaries and as the original site of the renowned Madras Club. Taj Club House is a modern contemporary hotel.
This hotel in Chennai offers free private parking, a fitness center, accommodation with a restaurant, and a bar. It also provides 24/7 room service. The hotel features a swimming pool, a mini-bar, a sauna, babysitting, and free internet access with free parking. The hotel also offers trendy food and beverages. The hotel also features a gym with a relaxing spa.
It secured 4.5 stars with its splendid view and facilities!!
CONCLUSION:
To make your stay more memorable and enjoyable we have made this list of the top 10 hotels in Chennai. These hotels in Chennai provide fantastic service for a lifetime had a great evening, the dining and the bar facilities at these hotels are amongst the best that the city offers and bar are perfect options for the elite party. These Hotels in Chennai will surely make you enjoy your stay as you experience all the things Chennai has to offer. Come and enjoy your stay!
Here is the link for top 10 hotels in Delhi!
FAQs:
Is breakfast included in the price?
Once you have retrieved the availability for a specific hotel for the requested dates, by clicking on the room name, you will find information about breakfast, taxes and room facilities. Many hotels do provide this facility!
Do hotels check your bags in India?
Access to both guests and the staff is being strictly monitored and physical searches of baggage are being conducted. Many hotels do this process of scanning the bags too!
Are food deliveries allowed in hotels?
Yes, you can definitely bring food or have a delivery there.
Can hotels see what you look up?
While your hotels management usually won't be able to see the contents of your communications, they can easily find out what websites you visit and how much time you spend browsing the Internet
What do you need to check into hotels in India?
You should always carry government-approved checking identification proof while checking in to the hotel.
Do hotels need ID of both guests?
In places where hotels are required to register their guests with the local authorities, they will ask for the ID of all guests.
Should I use a VPN at a hotels?
You should always use a VPN when connecting to public Wi-Fi, as it keeps your personal information encrypted and safe.
Can you get Amazon delivered to a hotel?
Yes, just give Amazon the hotel address and notify the front desk.
Do hotels block Netflix?
Many hotels and public places across the world, will have filters and blockers on certain websites.
Do hotels allow visitors?
Some hotels allow visitors on arriving at the property but every visitor has to register with the Front Desk.