Here is the list of the top 10 Resorts in Mumbai to make your visit more fun. Mumbai is a mix of iconic old-world charm architecture, strikingly modern high rises, cultural and traditional structures, and whatnot. The city is known as the commercial capital of India, but there is more to it than that. Mumbai is all about art, history, culture, food, theatre, cinema, nightlife, and a lot more. To witness all these amazing sights, you need to stay there for a few hours or maybe 2-3 days at least. While selecting a resort in Mumbai, every discerning business traveler and the leisure traveler on holiday in Mumbai look for luxury, functionality, and status, with value for money.
Our article about the best Resorts in Mumbai will take you through a whole pack of stunning scenery, and delicious food, not to mention a healthy and most comfortable stay or dine out in Mumbai.
HERE IS THE LIST OF TOP 10 RESORTS IN MUMBAI!!
Ramada Plaza by Wyndham Palm Grove
Ramada Plaza Palm Grove, you will experience many different things maybe for the first time. The resort features a spa, and a salon, and fully furnished serviced guest rooms. It is an ideal place for a quiet getaway, well within the city.
Room Facilities include a room Heater, Massage-Available in Room, Ironing Board, Fax Machine Room, Desk, and 24/7 room service. The resort also offers a gym, a spa, and a fitness center within the property. The resort rooms include air conditioning with a wardrobe, desk, flat-screen TV, minibar, and telephone. The resort is a perfect destination for business travelers.
The resort secured its position as one of the best resorts in Mumbai with a rating of 4!!
Hilton Mumbai International Airport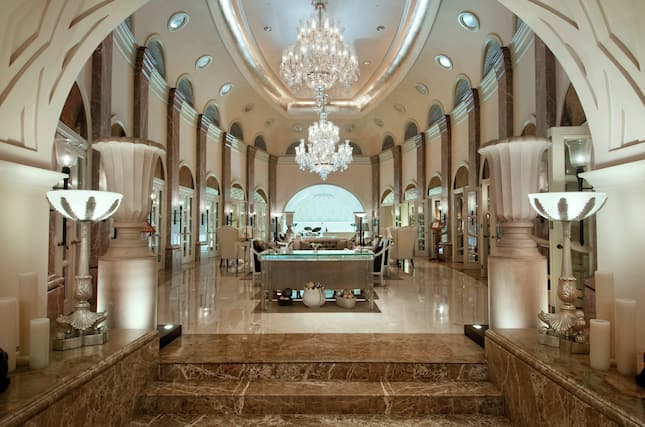 Hilton Mumbai International Airport is situated near Mumbai airport. The resort Combined the style of a 19th-century summer palace and aspects of a stately home with modern facilities and upscale conveniences. Hilton Mumbai International Airport is the perfect resort choice for business travelers.
The resort is situated near the prime business districts of Andheri and is located five minutes from the international terminal and 15 minutes from the domestic terminal. Hilton is surrounded by Shopping and entertainment. The dining is at the Oberoi Mall-Goregaon, Phoenix market city are also nearby. This Mumbai resort offers a total of 171 guest rooms and suites, as well as six flexible meeting spaces, including a ballroom and grand halls.
The resort also offers a unique dining experience, a spa, and a comprehensive fitness center. In addition, breakfast and evening cocktails in the private lounge are also available. Savor delicious Indian and Chinese cuisine in The Brasserie and Imperial China. The outdoor pool and the Garden Bar is an addition to all these facilities. Guests can also enjoy an open fireplace at the Lounge Bar.
THIS RESORT SECURED A TOTAL RATING OF 4.5 STARS!!
The Oberoi Mumbai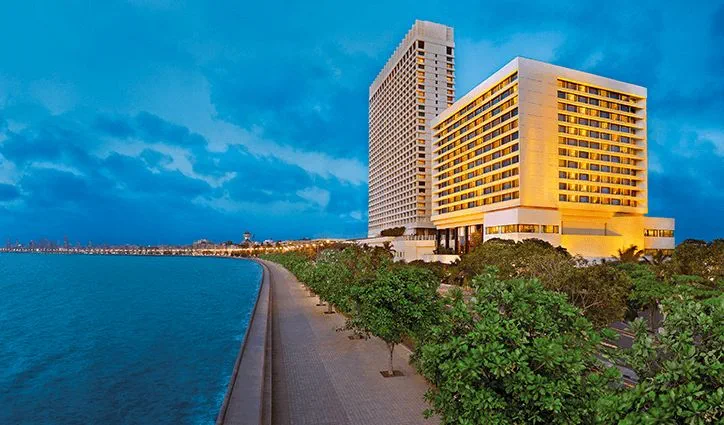 Oberoi provides an ideal mix of value, comfort, and convenience, it offers a romantic setting with a collection of amenities designed for travelers. Rooms at resorts are provided with a flat-screen TV, a refrigerator, and a minibar, and guests can stay connected with paid internet access.
In addition, the resort also offers room service and a concierge. You can also enjoy a pool and breakfast. The resort also offers a first-class multi-cuisine restaurant and a bar, if you like Mediterranean restaurants, it is conveniently located near Bay route, Souk, and Saltwater Bar and Restaurant. Mumbai is also known for some great government buildings, which are not too far from Oberoi Mumbai. While staying at Oberoi Bombay, you can check out Chhatrapati Shivaji Terminus and Nariman Point, some of Mumbai's top attractions. Free parking is available for guests arriving by their cars.
This is one of the well-known and best resorts in Mumbai with an excellent rate of 5!!
ITC Maratha, Mumbai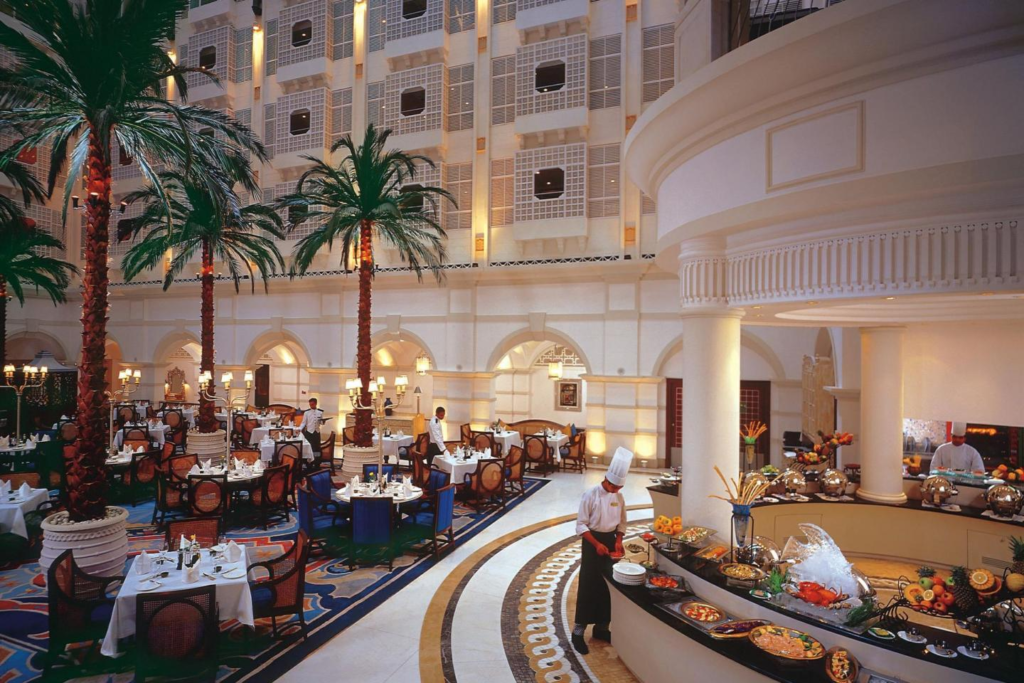 ITC Maratha is a luxury collection resort located on sahara Airport Road. The resort offers a swimming pool, a gym, and a health spa. It provides cuisines from across the world, a stylish bar, a bathroom with a shower, free toiletries, a hairdryer, and a bathtub.
Other facilities include a 24-hour front desk, business center, and shops. The resort provides excellence for five-star dining in Mumbai. You can enjoy a delicious meal at the all-day dining restaurant.
The resort got a rating of 4.5 with its amazing facilities and service!!
Taj Lands End, Mumbai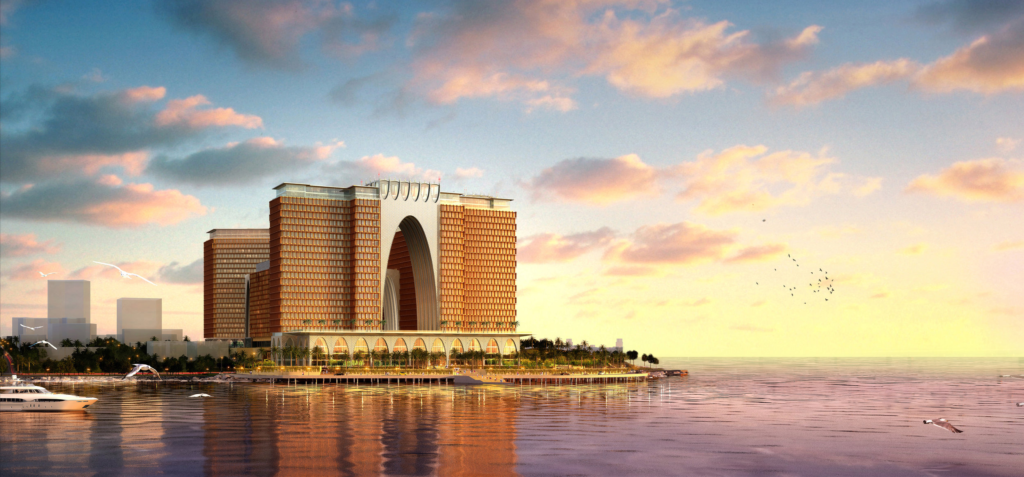 Taj Lands End is Located in the heart of Bandra, and reflects India's warm and heartfelt traditions of hospitality.. It offers the best sweeping views of the Arabian sea and city life. The resort features about 493 spacious rooms, wealthy furnishings, 24-hour room service, a business Centre, indoor and outdoor banquet spaces, a fitness center, a Spa, a swimming pool, and other luxuries.
Taj Lands End also features some of the most renowned restaurants & lounges offering guests all types of original food and beverage experiences. The resort offers easy access to the Andheri and World business districts, and the international and domestic terminals of Mumbai's Chhatrapati International Airport. If you are a tourist then there can't be any other perfect place for you other than this resort, as all the main tourist attractions in the city.
Taj Lands End Mumbai is one of the best resorts for tourists with a rating of 4.5!!
River Winds Resort Mumbai
River Winds resort is 8 kilometers away from Kalyan Railway station and 3 kilometers from Shahad station. The resort has a total of 22 rooms. The resort is designed in such a way that guests can enjoy and relax at the same time. The resort offers a Coffee Shop/Cafe, Conference Hall, Currency Exchange for foreigners, Laundry Facilities, Breakfast Services, Business Facilities, an on-site Restaurant, and Airport Transportation. This resorts in Mumbai provides all these facilities.
All resort rooms hsve a air Conditioning, Child Care, Cable/Satellite TV, Hair Dryer, Fax Machine Room, Moisturiser, Slippers, Attached Bathroom, Bottled Water in Room. Other facilities offered by the resort are a salon, Breakfast Services, Business Facilities, Conference Hall, Doctor on Call, free Parking, Restaurant, Room Service and paid wi-fi is also available.
Total price of one night stay is only INR 2000, which make this one of the cheap resorts in Mumbai!!
The Taj Mahal Palace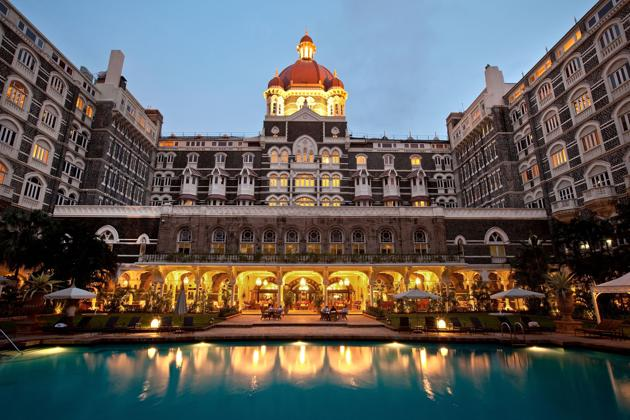 The Taj Mahal Palace, Mumbai is the first-ever luxury resort in India made back in 1903. The resort provides a spectacular view of the Arabian Sea and the Gateway of India and is a landmark for the city. The resort offers 543 rooms including 54 suites, each decorated with original paintings and ancient furniture that exude an aura of elegance.
The restaurants at The Taj Mahal Palace, Mumbai offer distinctive dining experiences that cover the finest Indian and international cuisines such as Japanese, Indian, and Chinese fine dining. The resort also accommodates a bar and a beautiful sea-front restaurant for high tea and live music.
The resort provides whole vibe of a palace, securing rating of 4.5 stars, It remains as one of the best resorts in Mumbai!!
The Lalit Mumbai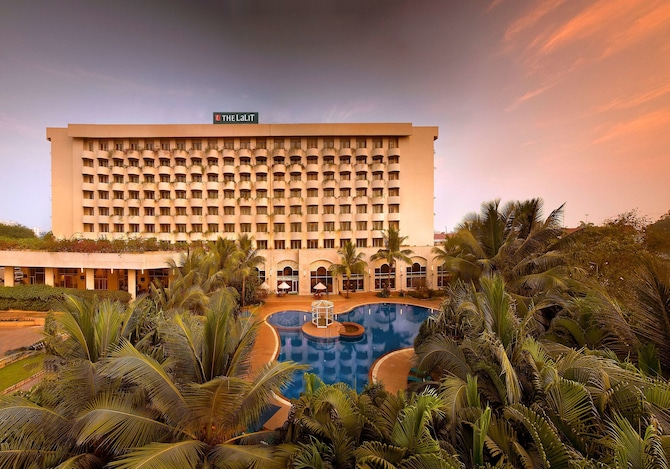 The Lalit provides reassurance, hospitality, and warmth to its guests. The resort is a combination of luxury apartment-style living and residency. The resort has a total of 21 apartment rooms that are fully furnished with marvels. The resort also offers a 24-hour front desk, room service, and a concierge. In addition, guests can enjoy a rooftop pool and free breakfast. For guests arriving with a vehicle, free parking is available.
The resort is one of the most desired property in Mumbai, with a rating of 4.5!!
JW Marriott Mumbai Juhu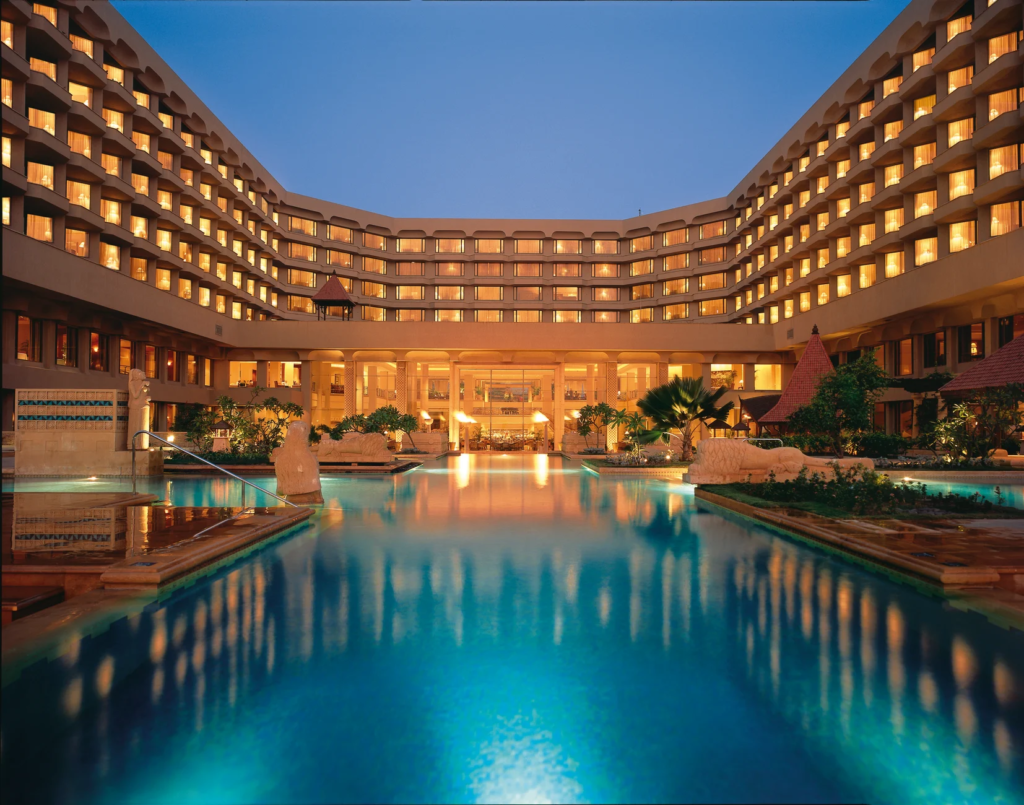 JW Marriott Mumbai Juhu, is located on the sands of Mumbai. The resort is on the famous Juhu Beach with a spectacular sight of the Arabian Sea. It is close to the commercial and industrial estates in North Mumbai and the tourist hub of South Mumbai. It is a popular choice among all other luxury resorts in Mumbai.
The resort is best for both business & vacation travelers. The resort is well equipped with a Business Centre, Conference facilities, indoor & outdoor Banquet spaces and a Spa for relaxation after the tired day. JW Marriott Mumbai Juhu, is situated only 20 minutes away from both the domestic & international airports. Other facilities include a 24-hour front desk, business center, and shops. The city resort provides excellence for five-star dining in Mumbai. You can enjoy a delicious meal at the all-day dining restaurant.
With its amazing facilities and infrastructure, the resort scored a rating of 4.5!!
Sahara Star Hotel
Sahara Star is located on the Opposite side of Domestic Airport Vile Parle, Mumbai. The resort's magnificence blended Indian traditions & culture with modern culture. Creating a paradigm shift, Sahara Star showcases the world's largest pillar-less clear-to-sky dome, an architectural landmark blending hospitality and entertainment. The resort offers one of the most individualized hospitality experiences. The resort/hotel has India's finest 4,000 sq. ft. Marine Aquarium, abode to the world's only Private Dining Room inside a marine aquarium with exquisite marine lives.
The world's first 'hemisphere' three compound-curved custom designed all glass panoramic elevators rising in the exotic 55,000 sq. ft. tropical lagoon. The resort Sahara Star features 348 guestrooms with 25 elegant suites. With all the space, it provides an opportunity for every host to announce their event to the world. The Sahara Star has the largest hall in the city.
The exclusive, spacious & elegantly designed Business Centre catering to this resort has it all.
The presidential boardroom is one of the city's largest featuring technologically advanced facilities for the first time in India. The 77 people-capacity presidential boardroom offers a four-screen Barco projection system, Voice-activated cameras, Ceiling mounted visualizer, and multimedia documentation of proceedings.
The Sahara Star features an unbelievable external facade made of glass and steel. In addition, all other room comes with facilities like air conditioners, wardrobe, and more.
BEING ONE OF THE BEST RESORTS IN MUMBAI, IT GOT AN INCREDIBLE RATING OF 5 OUT OF 5 STARS!!
CONCLUSION:
To make your stay more memorable and enjoyable we have made this list of the top 10 resorts in Mumbai. All these resorts provide excellent Hospitality. These resorts provide fantastic service for a lifetime had a great evening, the dining and bar facilities at these resorts are amongst the best that the city offers, and bars are the perfect option for the elite party. These resorts will surely make you enjoy your stay as you experience all the things Mumbai has to offer. Come and enjoy your stay!
Here is the link for top 10 resorts in Miami!
FAQs:
Is breakfast included in the price for these resorts?
Once you have retrieved the availability for a specific resort for the requested dates, by clicking on the room name, you will find information about breakfast, taxes and room facilities. Many resorts do provide this facility!
Is Mumbai safe for tourist?
Mumbai is as safe as New York minus the gun violence.
Are food deliveries allowed at resorts in Mumbai?
Yes, you can definitely bring food or have a delivery there.
Are visitors allowed in resorts?
Any visitor who stays over night would have to be registered with resorts at the Front Desk and the room rate may change depending upon occupancy.
What do you need to check into resorts?
You should always carry government-approved checking identification proof while checking in to the resorts .
Do resorts need ID of both guests?
For resorts in Mumbai you are required to register their guests with the local authorities, they will ask for the ID of all guests.
Is dine in open for resorts in Mumbai?
Restaurants and eateries that were open till midnight, are now allowed to operate till 10 pm with 50 per cent capacity
Can you get Amazon delivered to a resort?
Yes, just give Amazon the resort address and notify the front desk.
Can unmarried couples stay at resorts in Mumbai?
Yes. No law in the country denies an unmarried couple a stay at a resorts. However, checking-in a couple is at the discretion of the resort owners / managers.
Are resorts stays allowed in Mumbai?
resorts are open and guests can book a stay at any resorts in Mumbai.