In this article, we have discussed the top 10 Resorts in Thailand. Thailand is the one of the most travelled tourist destination and best place for budget-friendly people. This country offers best interaction with friendly people and diverse activities to experience varying from clubbing, diving, street food. These resorts were rated on their facilities, location, service, food, and overall value. This article helps you select best resorts out of other resorts in Thailand to stay in.
Our selection of the best resorts in Thailand will take you through a whole pack of stunning scenery, delicious food, not to mention a healthy and most comfortable stay or dine-out the country has to offer.
THESE ARE THE TOP 10 RESORTS IN THAILAND!
Centara Reserve Samui
Centara Reserve Samui is one of the best resorts in Thailand. This property is located amidst tropical splendor. This property has been fully redesigned to integrate its famed colonizer aesthetic with contemporary appeal. The resort offer free car parking and internet access throughout the property.
The resort features a 24- hour front desk, free internet access in the public areas and a fitness center. The property offers accommodation with a completely equipped kitchen. It includes a dish washer, a tea and coffee making facilities. Every unit has an attached restroom comes with a bath/ shower combination. Guests can make use of a laundry room that come pre occupied with a washing machines and dryers.
Lebua At State Tower
Lebua At State Tower is one of the top 10 resorts in Thailand. Not only is this best among other resorts but is also the most requested resort at the present time. The property provides an mixture of past and present in a very beautiful yet precise way. The property offers variety of cuisine all across the earth.
Almost every resort room features blackout curtains, Air conditioning, a desk, housekeeping, a Coffee and tea maker with Cable/satellite TV and Walk-in shower. The resort also options an full facility spa and 24 hour room service, a caretaker, and shops. Guests can also enjoy themselves at a pool and breakfast, in addition the resorts also provide an barbeque.
Pullman Phuket Panwa Beach Resort
Pullman Phuket Panwa Beach Resort is one of the best resorts in Thailand. This property is located by scenic Makham Bay. The accommodation offers contemporary- design rooms with subtle Thai touch. This resort boasts a beachfront pool surrounded by almost 4 dining areas, a gym and water sports.
The resort features beautifully furnished rooms featuring open private terrace with an outdoor seating area. Every unit comes with an free internet connection, a flat- screen television and a DVD player. Guests can also have massage at the on-site Spa and children can play at the child Club. The resort also features a spa, business center and a 24/7 front desk. The in-house restaurant offers Thai dishes and wines.
Millennium Hilton Bangkok
Millennium Hilton resort is one of the top 10 resorts in Thailand and offers a perspective of life and a spirited network of streets filled with art galleries, museums, and authentic markets. The resort features Modern and spacious rooms with an air-con. Resorts offers a refrigerator and a bathtub with all necessary facilities/amenities. Guests can relax or stretch out on the lounge, drink hot tea and watch the flat screen satellite TV.
The resort is situated among a short walking distance from the BTS Gold Line Charoen Nakhon station and might be simply reached via a cross-river ferry from the Si Phaya Pier next to the watercourse town Bangkok outlet. Few minutes away one of the biggest malls in Asia, ICONSIAM, can be found.
JW Marriott Phuket Resort & Spa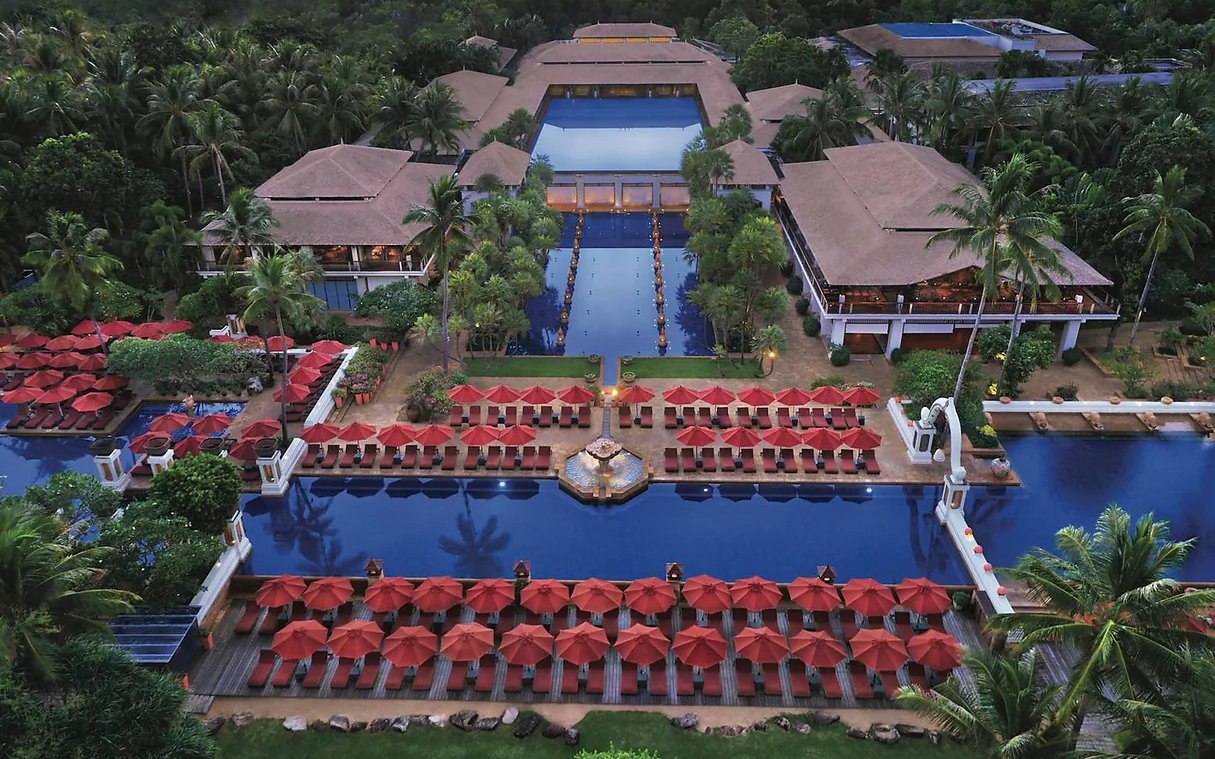 JW Marriott Phuket Resort & Spa is one of the best resorts in Thailand and provide all guests with free Wireless internet access in all rooms. The property also offer free of cost car parking on-site. This resort is situated in the Mai Khao part of Phuket, and puts its guests close to various famous attractions and interesting dining options.
Almost every room at the property is provided with a flat- screen television, a minibar and a safety deposit box. All units are provided with an attached restroom that includes a shower or a bath, bathrobes, a hairdryer and free toiletries. Guests at the resort can enjoy the breakfast buffet including various dishes every morning. The property also features an swimming pool, fitness center, a spa, 24 hour room service and front desk.
Centara Grand Mirage Beach Resort Pattaya
Centara Grand Mirage Beach Resort Pattaya is one of the top 10 resorts in Thailand. This property features a stunning view of the ocean. The resort also features an fitness center and a wide range of dining options. This resort is located along the Wong Amat and Naklua strands and offer free parking.
The property boasts beautiful ocean views from private balcony. All of the ultramodern Thai style rooms at the resort features a flat- screen television and an attached washroom with a walk-in shower and it additionally includes bathrobes and slippers. They also feature a comfortable seating areas. Every room of the resort features an modern furnishing and each room has a washroom that comes with shower facilities. The accommodation also features a fitness center and a 24-hour front table.
Hyatt Regency Hua Hin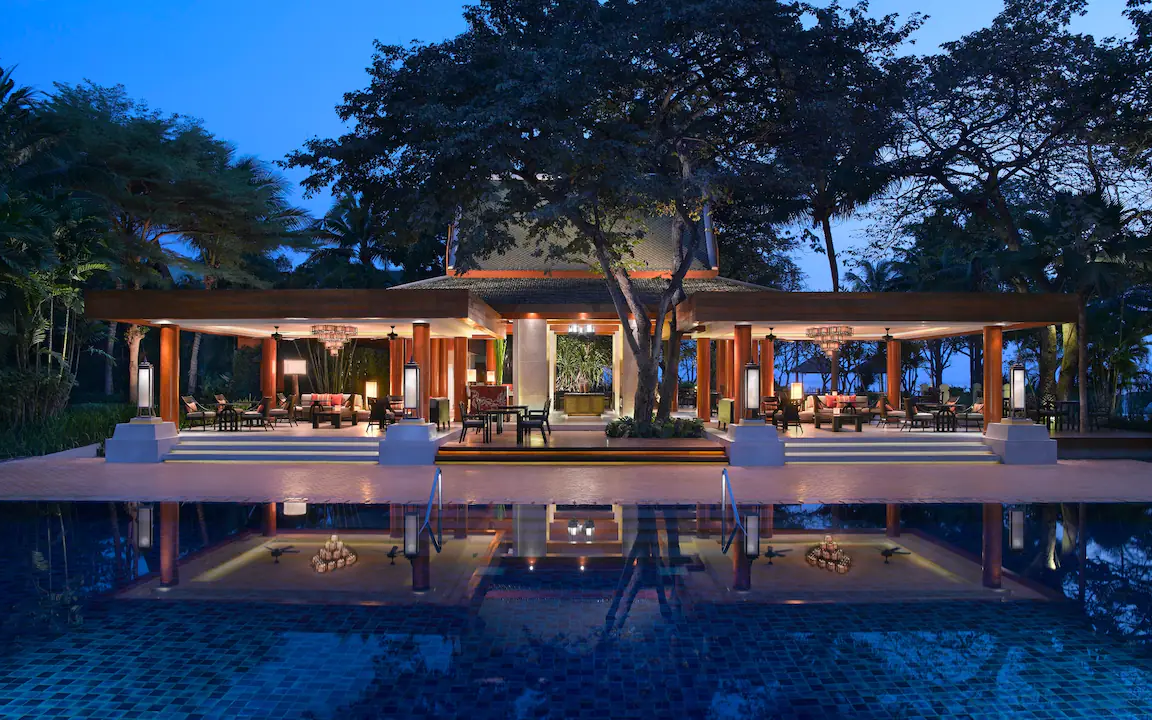 Hyatt Regency Hua Hin is one of the best resorts featuring free Wi-Fi in all rooms with free on-site car parking. This resort is situated in the Hua Hin Beachfront and provide its guests with interesting dining options and famous tourist attraction places.
This property features air conditioned and spacious rooms that come pre-equipped with a desk, and a TV. In addition, attached bathrooms include a bath or shower, a bathrobe, and other free toiletries. Guests can enjoy a work out in the gym. The accommodation also offer an indoor swimming pool. Thai as well as international dishes are available at the on-site restaurant. The restaurant offers a terrace on the backside of the resort, where all guests can enjoy a drink or meal. The property also offer 24/7 room service and front desk.
Anantara Riverside Bangkok Resort
This is one of the best resorts in Thailand and features an huge outdoor swimming pool with spa jets and spacious Thai-style rooms. Anantara Riverside Resort is around 5-minute drive from new Krung Thon Buri Skytrain station. The property offers the free parking to all its guests and is 45-minute drive from Suvarnabhumi airport.
The resort offers a 40-inch flat-screen TV, snacks and fruits available within each room. Each room feature Thai materials and trendy comforts. All guests can have massage among tropical gardens at Anantara Spa whereas children can play at Kid's Club. Other facilities includes a fitness center and table tennis and more games facilities. The resort offers around ten food choices, with hearty buffet breakfasts. In addition, a barbecue is also available at riverside.
Crest Resort & Pool Villas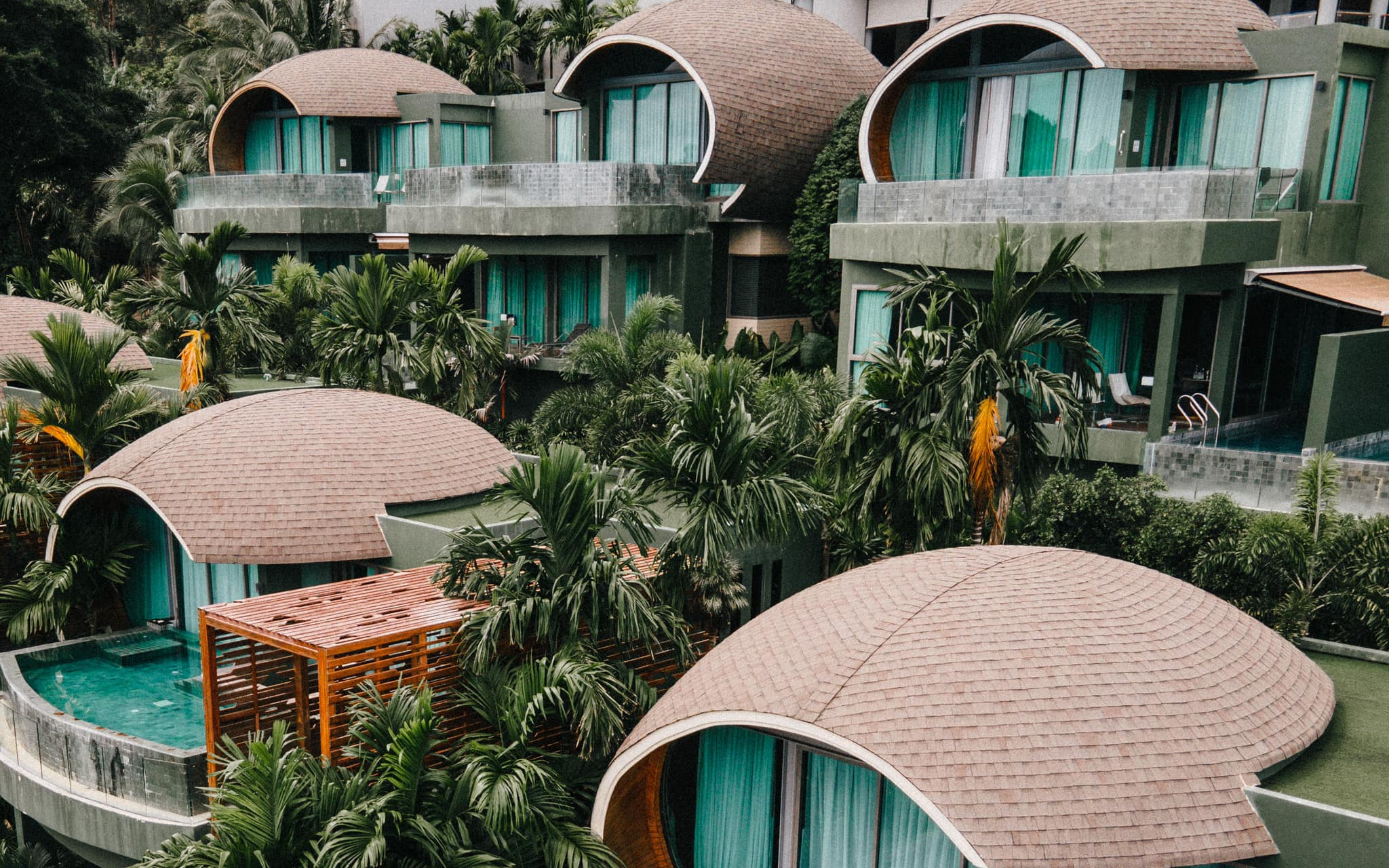 Crest Resort & Pool Villas is one of the top 10 resorts located just a short walk from Tri Trang Beach, just outside the centre of Patong. This resort offers swish rooms and pool estates. The resort is located on a gentle hillside and has an outdoor swimming pool and free internet access. It also offer a stunning 240 degree views of the Andaman Sea.
All rooms of the resort comes with air conditioner, a flat- screen television and a safety deposit box. The accommodation also offers a minibar, an electric kettle and an private attached rest-room with a walk-in shower, bathrobes and other necessary toiletries. The property also offer private pool on request. Guest staying at the property can enjoy dishes at the on-site restaurant. In addition, the property also offer a gym, a fitness center and a business center.
Sheraton Grande Sukhumvit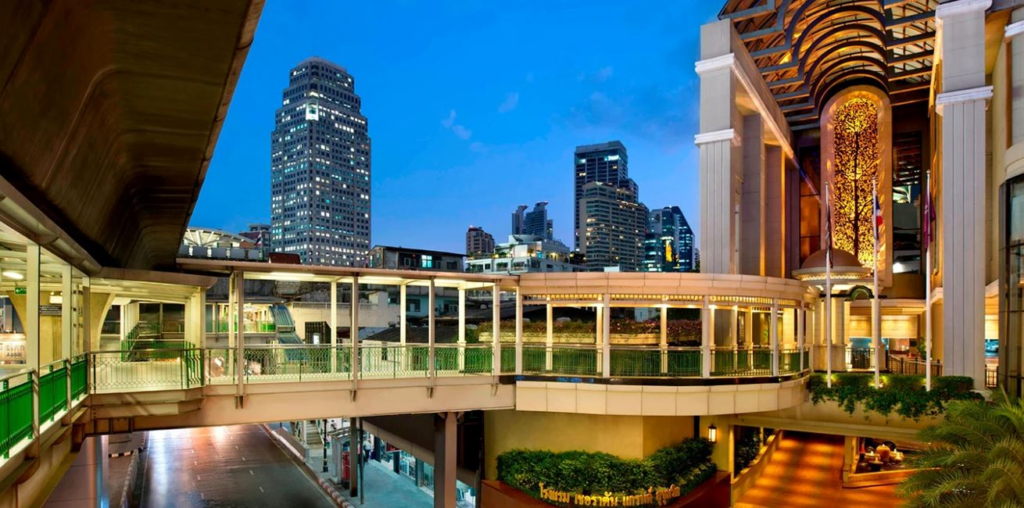 This property features variety of fashionable rooms with free internet access and stunning views of the city. This five-star property options an expensive spa center, and a restaurant with amazing food choices for all its guests. The resort is surrounded by various amazing places and views. All these elegant rooms comes with a air-con, a flat-screen cable TV, a seating area and a lobby. A luxury rest room is additionally supplied, also the bathroom is offered with a bath tub, and the restroom is Japanese-styled.
Guests are provided with 24/7 fitness center or unwind within the vapor bath. At the front desk staff is always available, laundry and baby sitting services are also provided. Other facilities include a business center, meeting rooms and baggage storage. International buffet breakfast or breakfast set will be enjoyed daily at the property.
CONCLUSION:
To answer all your curiosity about the most visited resorts of all time we have made this list of the top 10 resorts in Thailand. All these resorts provide excellent Hospitality. These resorts provide fantastic service for a lifetime had a great evening, the dining and bar facilities at these resorts are amongst the best that the country offers, and bars are the perfect option for the elite party. These resorts will surely make you enjoy your stay as you experience all the things Thailand has to offer. Come and enjoy your stay!
Here is the link for the top 10 hotels in Sri Lanka in 2023!
FAQs:
What is Thailand famous for?
Thailand is world-famous for its spa massages, beaches, Buddhist temples, nightlife, and, of course, shopping.
Is breakfast included in the price for these resorts?
Once you have retrieved the availability for a specific resorts for the requested dates, by clicking on the room name, you will find information about breakfast, taxes and room facilities. Many resorts do provide this facility!
Do bars in Thailand ID?
Bars rarely, if ever, check IDs for tourists. So you have to be careful while deinking anything.
What is Bangkok's most beautiful place?
Wat Arun (Temple of Dawn) is One of the most famous landmarks of Bangkok, Wat Arun or the Temple of Dawn is a Buddhist temple located on the Thonburi west bank of Chao Phraya River.
Are food deliveries allowed at these resorts?
Yes, you can definitely bring food or have a delivery there.
Are visitors allowed in resorts?
Any visitor who stays over night would have to be registered with resorts at the Front Desk and the room rate may change depending upon occupancy.
Is Thailand friendly to tourists?
Thailand is an incredible country which has a lot to offer. There is something for everyone, from natural beauty to rich culture, food, and history. Thailand is one of the safest countries in the world to travel to.
Do resorts need ID of both guests?
For room in resorts you are required to register their guests with the local authorities, they will ask for the ID of all guests.
Do resorts charge for Wi-Fi?
Resort fees are usually charged to cover amenities like wifi and gym access, but they're not optional and you have no choice but to pay them even if you choose not to use the amenities they cover.
Is Thailand Tourist Visa open for Indians?
Yes. Indian Passport holders can apply for a Thailand Tourist Visa prior to their travel at the Thailand Consulate/Embassy or can also opt for a Thai Visa on arrival.