To make your stay more fun and memorable, we have created a list of the top 10 hotels in Sweden. The country is famous among tourism for its varied landscapes. This is perfect place if you love tp do the outdoor activities. The air and water of this place is very clean, and there are thousands of unspoiled forests and large lakes to explore. To witness all these amazing sights, you need to stay there for a few hours or maybe 2-3 days at least. Here is the list of the top 10 hotels in Sweden to make your stay more fun.
Our selection of the best hotels in Sweden will take you through a whole pack of stunning scenery, delicious food, not to mention a healthy and most comfortable stay or dine-out in Sweden.
THESE ARE THE TOP 10 HOTELS IN SWEDEN!
Bank Hotel
Bank hotel is one of the best hotels in Sweden. This hotel is settled within the central Stockholm few minutes' walk from Strandvägen and Stureplan in the Östermalm district. The property features a fitness center, on-site restaurant and free internet access.
Each hotel room is designed with modern furnishings and feature a flat-screen TV, minibar and coffee making machine. The attached washroom include all necessary facilities. All hotel rooms have their own air-conditioner, and Free internet access is available throughout the hotel. The property also offers a lobby bar and room service is available 24/7. The breakfast served in the room. The cocktail and terrace bar are also available at the top floor with great views. It offers variety of non-alcoholic options as well as classic cocktails.
Radisson Blu Waterfront Hotel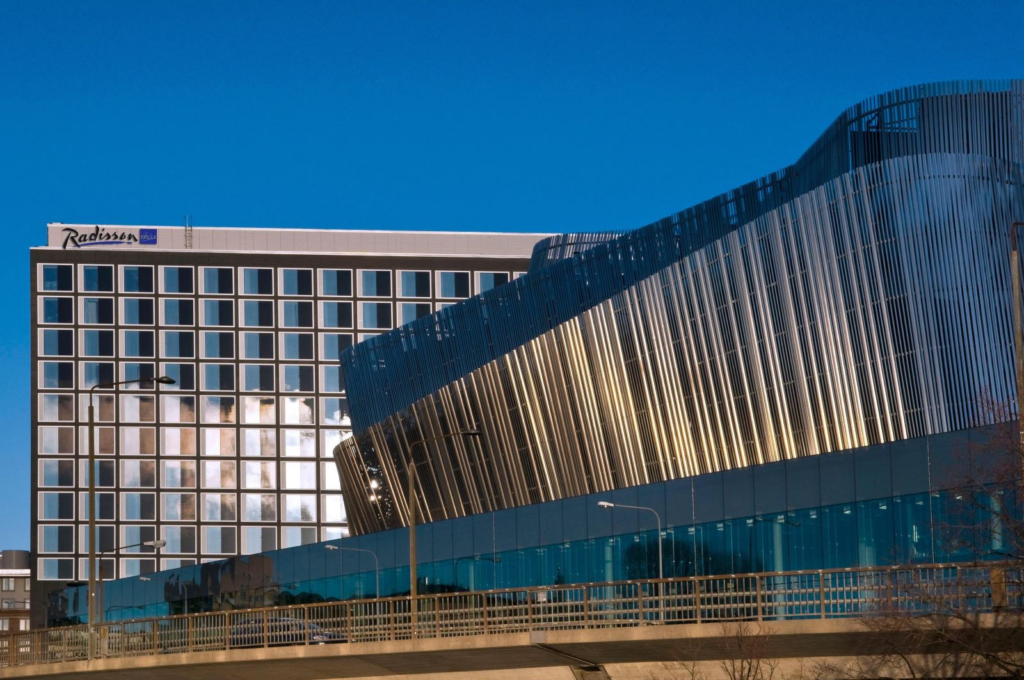 Radisson Blu Waterfront Hotel is situated beside Central Station. This is one of the top 10 hotels in Sweden and is just some 8 minutes' walk from Stockholm Town Hall. Guests at the hotel can have free entrance to the gym, pool, and sauna. The hotel provide free breakfast to children under 7 years while children up to 12 years have a discount.
Every air-conditioned guest rooms at the property includes luxury beds and a bathtub or shower. Each room features a satellite TV and minibar. Free internet access is provided throughout the property. All hotel room features blackout curtains, Air conditioning, a desk, housekeeping, a Coffee and tea maker facilities with a satellite TV and Walk-in shower. The hotel also provide accommodation with a restaurant, private parking, a gym, a spa, and a shared lounge. The in-house restaurant Stockholm Fisk serves internationally inspired cuisine. The hotel also features a cocktail bar.
Clarion Hotel Arlanda Airport Terminal
This modern design property is one of the best hotels and is located inside Arlanda Airport's SkyCity, between Terminals 4 and 5. It features a sky bar and restaurant. The property also offer free internet access throughout the area.
The property offer Bright décor, contemporary furnishings and wooden floors or carpet decorate each room at Clarion Hotel Arlanda Airport. All rooms offer a flat-screen satellite TV, work desk and fresh, tiled bathroom with a hairdryer. The hotel offer 3 different bars in the property, Living Room and Sky Bar. The à la carte Restaurant offer breakfast within the property. Other feature offered are a pool, a gym and a sauna.
ICEHOTEL
ICEHOTEL is one of the most famous and top 10 hotels in Sweden. This property is situated in Jukkasjärvi in northern Sweden. The Icehotel features rooms entirely made out of sculptured ice. The hotel also offer warm rooms. A bookable sauna facility is also available, which contains a wood-burning hot tub and ice bath for a fee.
The property features individually themed cold rooms include hand-carved ice furnishings by international artists. These rooms hold a temperature between -5 to -8 degrees Celsius. Every room come pre-equipped with a flat-screen TV with cable channels, dining area, and a attached private bathroom equipped with a shower. Free internet connection is offered in all rooms. The on-site restaurant serves traditional dishes with locally produced ingredients. The property also features cocktail, hot drinks and snacks. The area around the hotel is popular for outdoor winter activities such as dog sledding, reindeer sled excursions, and snowmobile tours. In addition to this during the winter season guests can enjoy northern lights if lucky.
Grand Hôtel
Grand Hôtel Stockholm is situated on the waterfront opposite the Royal Palace and the Old Town, 1 km from Central Station. The hotel offers fine dining, a luxury spa and free wireless internet access. The property also offer free car parking as well.
The property features spacious and air-conditioned rooms with an LCD TV and a minibar. Guests can enjoy the on-site restaurant. Each hotel room comes with air conditioner, a flat-screen satellite TV and a coffee machine. Each unit has an attached personal bathroom with a shower and electric toilet facility. The property also features a meeting room and banquet. All rooms include a safety deposit box. Some rooms feature a seating area to relax in after a busy day and also includes a wardrobe, desk, safe and a mini-bar. Cadier Baren serves an à la carte breakfast, lunch and cocktails.
Nobis Hotel Stockholm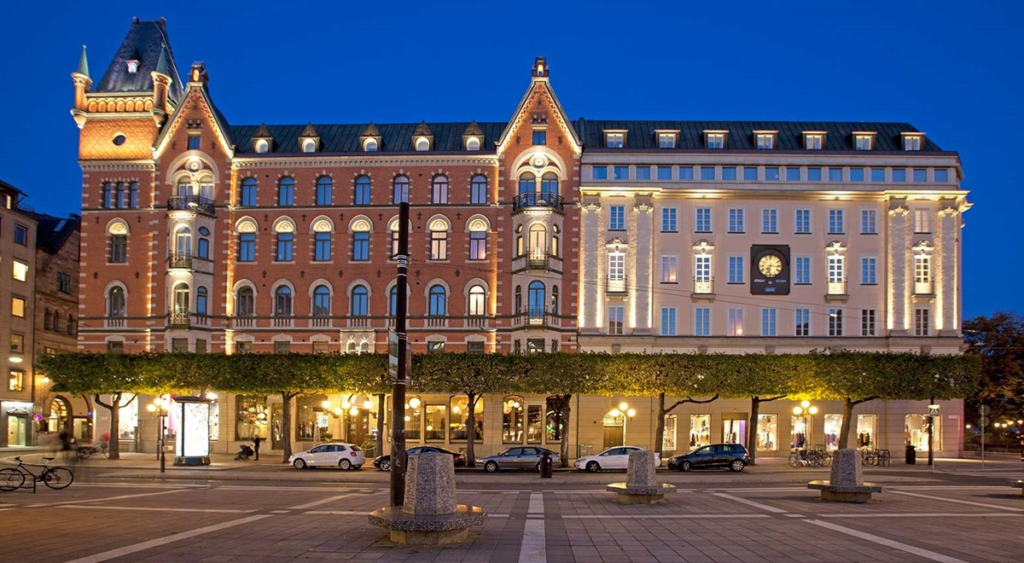 Nobis Hotel is one of the best hotels set in two stylish 19th-century buildings on Norrmalmstorg Square, in the middle of Stockholm's main shopping district. The hotel offers luxurious rooms with free internet access. All rooms at property feature modern décor, climate control, a flat-screen cable TV and marble bathrooms.
The hotel features modern and spacious rooms that features an extra long beds, a flat-screen TV and a seating area. The hotel also features a spa, yoga and fitness center. Other facilities include a 24-hour front desk, business center, and shops. The hotel provides excellence for five-star dining in Sweden. You can enjoy a delicious meal at the all-day dining restaurant. Guests can work out in the fitness center with state-of-the-art equipment, or relax in the sauna and steam room. The hotel is in close proximity to various famous attractions.
Freys Hotel
Freys Hotel is one of the best hotels and is family-owned. This property feature accommodation with spacious and modern style. All rooms at the property feature bright décor and cable TV. Some include bathrobes and slippers for extra comfort.
Free network access is available through-out the property. A healthy buffet is served each morning, and guests can also treat themselves to an in-room breakfast. A sauna is available as well. This accommodation features spacious and air-conditioned room that come pre-equipped with a flat-screen TV. The private bathroom come attached with the rooms and includes bathrobes, slippers, free toiletries and free spring water. The hotel features around 6 meeting rooms and conference facilities.
Sheraton Stockholm Hotel
Sheraton Stockholm Hotel is a best hotel to a have a great start for your trip as this is located in close proximity to various famous tourist spots. The property features free internet access in all rooms. The hotel is srategically situated in City Center – Norrmalm.
The hotel also features a pool, a gym, a fitness center and a spa. It also features a restaurant that provides cuisines from across the world, a stylish bar. Every room features a TV, air-con and an attached bathroom with a shower, free toiletries, a hairdryer, and a bath-tub. Other facilities include a 24-hour front desk, and business center. The hotel offer excellence for five-star dining. You can enjoy a delicious meal at the all-day dining restaurant.
Clarion Hotel Sign
Clarion Hotel Sign is one of the top 10 hotels in Sweden. It offers free wireless internet access rooms with a flat-screen TV and a rooftop spa with a heated pool.
Sign's Selma CitySpa has a relax area with sauna, spa treatments and a terrace with panoramic city views. The heated rooftop pool is open all year round and during summer, the terrace also features a bar. Guests receive discounted admission to the spa. The 2nd floor gym is open daily and accessible with your room key. All hotels rooms are elegantly designed and well equipped with an outdoor pool and 24-hour room service. At the property, each room includes air conditioning with a wardrobe, desk, safe, flat-screen TV, minibar, and telephone. This features four on-site restaurants and lounges, a spa and an indoor swimming pool. Various famous tourists attractions are in close proximity to the hotel.
Sankt Jorgen Park
Sankt Jorgen Park is one of the top 10 hotels in Sweden. The property offer free internet connection and free access to the fitness center and training classes. This hotel also feature and indoor and outdoor swimming pool.
Each hotel room have a air Conditioning, Cable/Satellite TV, Hair Dryer, Moisturizer, Slippers, Attached Bathroom, Bottled Water in Room. Other facilities offered by the hotel are a salon, Breakfast Services, free Parking, Restaurant, Room Service and internet access is also available. The hotel offers a Coffee Shop/Cafe, Laundry Facilities, Breakfast Services, and a poolside lounge. The in-house restaurant offers a breakfast buffet and an internationally inspired à la carte dinner menu. Drinks and snacks available as well within the property.
CONCLUSION:
To make your stay more memorable and enjoyable we have made this list of top 10 hotels in Sweden. These hotels rooms are beautiful with lovely views and wide windows. These hotels offers room service 24/7. Overall the hotels are on the budget the rooms are clean, the staff is friendly and helpful. The condition of the room is very good. Discover the excitement of Sweden while staying in one of the best hotels in the city. These hotels in Sweden will surely make you enjoy your stay as you experience all the things hotels has to offer. Come and enjoy your stay in best hotels of Sweden!
Here is the link for the top 10 resorts in Denmark in 2023 !!
FAQs:
What is the most visited place in Sweden?
Most visitors who come to Sweden start their trip in Stockholm, the country's largest city and its capital. There is no question that Stockholm's attractions are world class, but don't forget to explore the other amazing spots throughout the country.
Why do tourists visit Sweden?
It's home to incredible nature and wildlife. It would not be an exaggeration to say that Sweden is one of the most beautiful countries in the world! It is home to 29 national parks in addition to over 100,000 lakes, making it a dream destination for hikers and camping enthusiasts.
Why do hotels ask for everyone's ID?
ID scanning gives an accurate account of all guests checked in to their room. This means you know who should be in their room and you will know when they check out. ID scanning can also save information.
What happens if you bring more guests to a hotels?
If you and your guests are low-key and not causing any type of issues, chances are the hotel will not be aware of your additional guests and even if they do suspect something, they may not do anything. But you still need to be aware that you are potentially violating fire codes by having so many people in your room.
Is Sweden a good tourist destination?
It is an easy country to travel in, Sweden has well-functioning public transportation, a high level of safety and a population that for the most part speaks English very well.
Can you check-in anytime at a hotels?
You can probably check in hotels any time you like as they have a desk clerk 24/7, but if you are going to be as late as you indicate you should call ahead and make a reservation.
Can you leave hotels keys in room?
You don't need to check out at the front desk. You can leave the key cards in the room of hotels.
Can you have visitors in hotels rooms?
In hotels Guests will be required to sign in their visitors at the Front Desk where they will complete a Visitor Slip stating their name, room number and name of their visitor.
Why Sweden is top for sustainable tourism?
Sweden has a lot to offer as a sustainable tourism destination. Accessible nature and our close to nature lifestyle, innovative dining experiences with respect for both humans and environment, and local cultural experiences with design and architecture created for people, to be used.
What is the tourism like in Sweden?
In 2019, it reached the 91st place of the world's most popular cities with 2.72 million tourists. On average, each of the tourists arriving in 2018 spent about 1,696 US dollars. Conversely, the inhabitants of Sweden spend only around 766 dollars a year when they themselves spend vacations abroad.